If you want to access the creative mode of the video game, you will have the option to do so via the game menu. There you will see four islands where you can create your own minigame which includes many things to do in Fortnite creative mode.
For this you will enjoy the options offered from inventory, where you can choose between different buildings, weapons, objects and constructions. Likewise, there is the possibility to modify the map and modify it to your liking.
In addition to the elements that the inventory offers you, can also create your own structures from prefabricated elements, this opens the door to an infinite number of possibilities, such as obstacles, trampolines or trampolines.
Start creating a minigame in Fortnite in creative mode
To start making a minigame in Fortnite in creative mode, you just have to press the Esc key from the video game interface. A drop down menu will appear, go to the end of it until you find the yellow button that says "My Island". Select it to change the basic game settings and main team rules.
This is the first step in starting your minigame and then start winning Fortnite games easily. From here you have the ability to edit the entire video game, from game mode, spawn location, time, limit and equipment.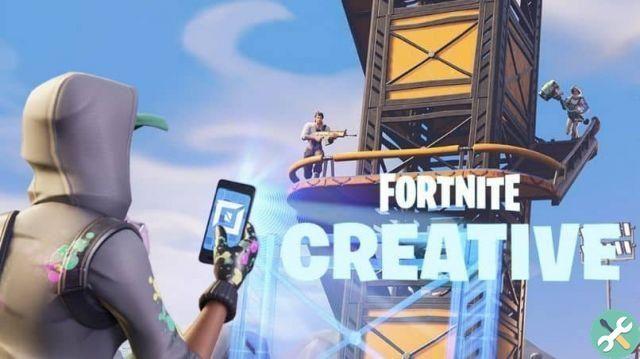 Advanced configuration
When you create a minigame in Fortnite in creative mode, there it will take a long time to learn the basics of the edition. But to be a true expert you need to know the advanced settings, so you can improve your minigame even more.
How to make objects float?
If your interest is in making a parkour minigame you will need to know how to configure objects to float on the island indefinitely. To do this you need to use the AR phone and move the objects.
When you perform this action, you will see the option " Release ", This is assigned to the G key. If you make changes to" on «, Any object you place will automatically fall to the ground.
So if you want them to float, you just have to move the objects with the option " off »Activated, in this way they will fluctuate indefinitely.
Place objects evenly
Not all users like to place objects in a messy way. For this there is a solution that will allow you to order objects uniformly and harmonically separated.
This is achieved by adjusting the grid assigned to the V key, it is disabled by default. It allows you to make three different types of configurations depending on what you want to achieve. From simply gluing the objects together, to leaving considerable space between the elements.

Activate / deactivate the collision
This feature is very useful if you are looking to create new structures from different elements and resources. To run it, you just have to hold down the V key to configure the option that elements can cut each other or not.
Other sections that you can configure when you create a minigame in Fortnite in creative mode are the duration of the game, its severity and the name of the places. Also, knowing what's in the Fortnite store, you can choose the weapons to use or add various items to chests.
The developers of Epic Games have released a statement in which they express that they will gradually add more ways to manage the creative mode, as well as numerous new features. For make Fortnite even more interesting than it already is.