Marvel's Spider-Man: Miles Morales is the new spin-off linked to the first chapter of Marvel's Spider-Man, and in this guide we list the list of all the trophies that the game has to offer. This sequel, developed by Insomniac Games and published on November 19th on PlayStation 5 and PlayStation 4, despite everything does not want to miss a decidedly substantial trophy list; in fact there are 50 trophies divided into 37 bronze, 10 silver, 2 gold and the inevitable platinum. In case you want to avoid any kind of spoilers on the game, we advise you not to deepen this reading. However, consider that their descriptions are deliberately not detailed, in order to anticipate as little as possible of the plot.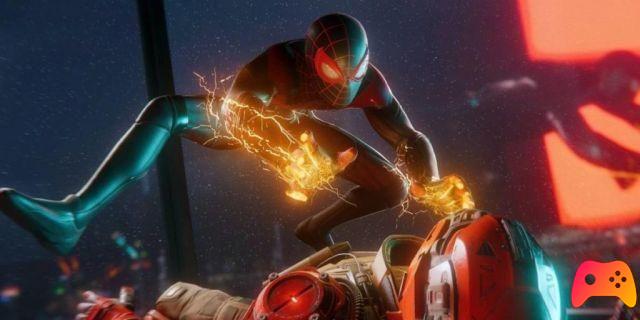 As in the case of the previous title, even in the role of Miles Morales it is not a particularly difficult game to complete 100% in order to obtain all the trophies and reach platinum. To do this, you just need to dedicate yourself to the main campaign and the liberation of the different districts of New York, and then move on to repeat the story in a new game + (which, however, will not take you long by skipping all the videos). Considering that you will still have to play the title twice to get platinum, you can hardly miss a trophy, while the most time-consuming trophies to get will be those related to completing the game in NG + and obtaining all the skills.
Here is the complete list of all the trophies in Spider-Man: Miles Morales sorted by type:
Bronze Trophies
Aerial danceGet Spectacular or higher in a Spider-Training Mobility Challenge.
Violent pixels- Get Spectacular or higher in a spider-training combat challenge.
Invisible- Get Spectacular or higher in a Spider-Training Stealth Challenge.
Spider-training: completed: complete all spider training challenges at least once.
Pete's first enemy: complete the final exam.
DIY kit: Create 10 upgrades.
Rodeo with Rhino: Ride Rhino in the mall.
Hanging by a thread: support the bridge.
Straight to the core: Explore Roxxon's underground laboratory.
deceptionComplete the vault scene in Underground Undercover.
Harlem Express: resume train rides.
Fast-skates: Chase Tinkerer through the city.
Shared history: Trace Miles and Phin's past.
Explosive bulldozer: Defeat Roxxon Rhino.
Quarrel in the family: Defeat Prowler.
Extreme sacrifice: save Harlem.
Danger from above: Perform 25 ceiling eliminations.
Vertical ascent: Perform 25 Wall Eliminations.
Invisible spider: Defeat 50 enemies while cloaked.
Overload: Defeat 100 enemies with venom attacks.
Higher and higher: Perform a venom jump, then a venom dash against an enemy.
Strike: Use venom dash to throw an enemy into a group of three or more elements.
Like a rhino in glassware: Crash 15 obstacles while riding Rhino in the mall.
Competitive spirit: Beat Phin in the rocket minigame.
Best fries in town: Pay your respects to an Upper West Side legend.
JJJ would be proud: Apply a sticker and change the lighting in photo mode.
Trapped: Defeat 50 enemies using the ranged mine gadget.
Five star review- Complete all ASMQ app requests.
Modified costume: Create a costume edit.
Feast your eyes: create a viewer change.
Never give up: Pay your respects at Jefferson Davis' grave in Harlem.
A gift from Pete: Get the gift costume.
Crime master- Complete all the bonus objectives of each type of crime.
No escape- Perform 100 stealth takedowns.
A spider in a boat: Get on the run-down boat south of Chinatown.
Socially accepted: Scroll the entire social feed at the end of the story.
More and more: Complete the game in a New Game +.
Silver Trophies
Urban archeology: Get all the time capsules.
Journey into memory: get all postcards.
Riciclaggio: Open all Underground stocks.
From under the nose: free all Roxxon laboratories.
End of the Underground: free all underground hideouts.
Ready for everything: shop all the costumes.
Bow to the king: save Harlem from a criminal conspiracy.
Ghost mission: liberate an enemy base without being detected.
Combo x100!: perform a x100 combo.
Family traces: Get all the audio samples and put together the Davis Brothers mix.
Gold Trophies
It's only the beginning: unlock all skills.
A new home: 100% complete all districts.
Platinum Trophies
Be yourself: get all trophies.
And with this concludes the list of all the new trophies in Spider-Man: Miles Morales. In the hope that this list will be useful to you, we conclude by referring you to our review in case you have not read it yet and want to deepen everything that this new chapter represents.
► Marvel's Spider-Man: Miles Morales is an Adventure-type game developed by Insomniac Games and published by Sony Interactive Entertainment for PlayStation 4 and PlayStation 5, the video game was released on 12/11/2020
Version for PlayStation 5 from 19/11/2020
Marvel's Spider-Man: Miles Morales is a beautiful game that cannot be missing from your collection: we have decided to evaluate it with a 85%, if you are interested in learning more you can read the Marvel's Spider-Man: Miles Morales Review