Apple Watch, with the release of WatchOS 8, saw the introduction of the Mindfulness app, which replaces and improves what was the "Breathe" experience.
Mindfulness includes two types of sessions: Breathe e Reflect, and each of these works like the Workout app: you can in fact adjust the length of the session, from a minimum of one minute to a maximum of five; with a further tap the session will start and we will only have to follow the instructions on the screen.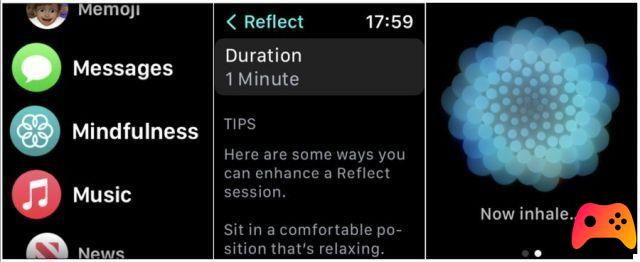 In itself, the Apple Watch Breathe experience doesn't change much: a kind of flower will appear on the screen, which will grow and shrink in time, in association with a perceptible haptic feedback on the wrist; when the flower grows, inhale, when it shrinks, exhale.
The Reflect option is the one that sees some changes: each session offers you something that Apple calls "a little thought to consider to help your mind frame the day in a positive way"; the aim is therefore to focus the mind on a single "mental binary"For a very brief moment.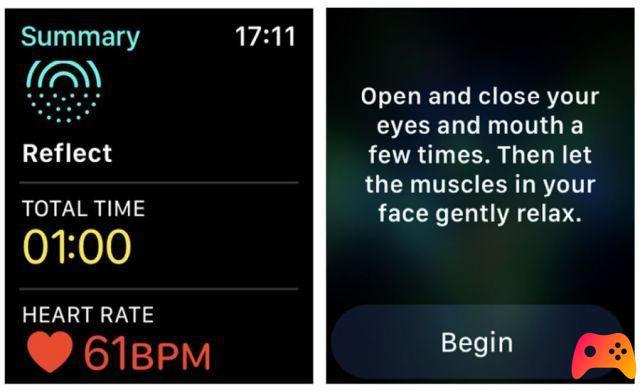 The inputs that Apple Watch Reflect gives us can be in relation to past experiences, people in our life, but also "physical" sensations, so to speak; during these sessions, you will see an animation on the screen, but there will not be a breath indicator like in Breathe, which clearly wants to push you not to look at the screen during the exercise, will underlined by the haptic notification that we will hear at the end of the session.

One last little piece of good news: the negative feedback on the excessive aggression of notifications by the Breathe app they have been listened to, and if you have already deactivated or limited them previously, they are already deactivated or limited in the Apple Watch Mindfulness app; if in doubt, go to the Watch app on your iPhone, scroll down to Mindfulness and you will have a quick recap of the status of your notifications.