The triumphal march of FIFA 22 continues apace. The title of Electronic Arts continues to grind incredible numbers, which demonstrate how much the game servers, especially those related to the mode FIFA Ultimate Team, are incredibly populated. The "modality of modalities" continues to be more and more interesting and exciting, thanks above all to the huge amount of challenges, goals, goals and many other things to do but above all thanks to the many cards related to the players, released in an incredibly constant way by EA and which keep the general hype very high.
As per tradition, the Canadian software house is releasing themed paper with great regularity and, to celebrate the Halloween party, in the last few hours it has decided to re-propose the event launched for the first time last year and which has aroused a great success, that is the one related to the cards Rulebrekaers. For the uninitiated, these are cards that see some of the basic card's statistics heavily modified or otherwise altered, which in many cases completely changes the face of the player in question once he enters the field.
EA Sports has therefore released the first team of Rulebrekaers players, including players that can be purchased on the market and others available through SBCs and objectives, which will be available until next Friday when, as usual, it will be replaced with the second group of athletes. Have you set your sights on the new Dembelè? Does Nkunku's SBC appeal to you too much? Don't worry, we'll take care of it. In this guide we want to show you the best five players related to the new event, also trying to explain to you if it is worth buying and / or unlocking them.
Are you ready to take notes?
Trent alexander-arnold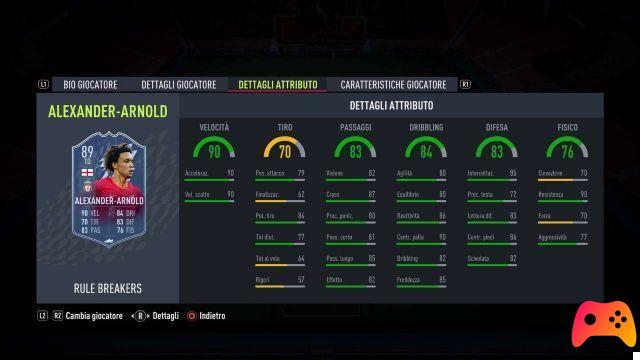 First player in the standings is Liverpool's English defensive back Trent Alexander-Arnold, a very particular full-back that many players needed, especially as a matter of links. The young leader of the "Reds" finally gets a usable card, which he earns 12 points at speed, fundamental factor for a full-back and well four points to dribbling, physique and defense, thus become a practically mandatory choice on the right wing. Of course, if you have few credits, maybe you could even decide to save by relying on the evergreen Walker, but if you are building a team with no expense spared, well, you could think about it, especially if you defend high and are good at intercepting opponent passes rather than using a physical and wait-and-see defense.
Marko Arnautovic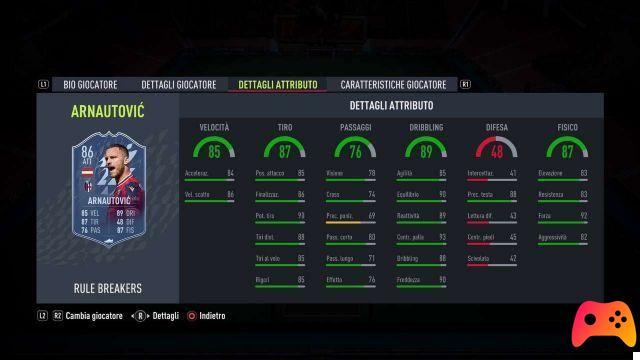 Fourth square of ours Top 5 for the tip of Bologna, which is placed, with this version, by right among the very first alternatives, if not the best alternative ever, for the Serie A championship. surgery under the door. This clearly makes him a very interesting player, also because, in fact, there are not many alternatives in Serie A for the role of center forward. The fact that the player is a 4 skill and 4 foot weak, that he is very strong in his head and that he also knows how to make good passes does the rest. Ah, then it only costs 60k!
Antonio Rudiger
Lower step of the podium for the mighty German central defender ex Roma Antonio Rudiger, who in this version confirms the incredible physical and defensive skills but earns 8 points in speed, including a nice +25 to shutter speed. This clearly, in a game like FIFA and also in FIFA 22, makes it even stronger and "meta", since it is less exposed to the attacks of the opponents, especially to the various throughers and raids on the wing, two "must" for the gameplay of the Electronic Arts title. Of course, it costs a lot (about 350k) but it offers good links with players such as Kantè, Werner and so on. We, honestly, would be happy to give it a chance!
Christopher Nkunku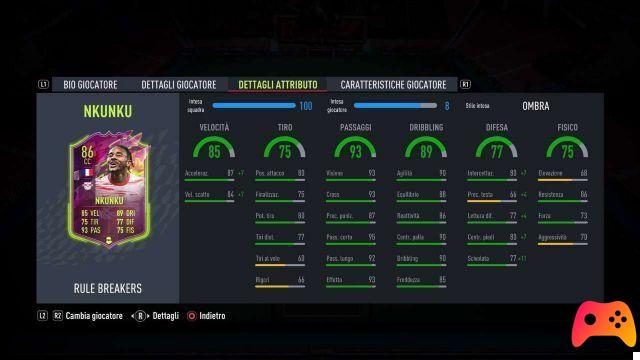 The runner-up, therefore one step away from the primacy of our first ranking, is the only player of the group to be available not in packs but through SBC: Christopher Nkunku. The French midfielder of Leipzig, one of the revelations of real football in recent years, and increasingly used and appreciated within the FIFA universe, obtains even more visibility in FIFA 22 thanks to the Rulebrekaer card. The player is unlockable, in fact, through a two-challenge SBC, costing about 170k, and once completed you can choose between two different versions of the player: one with 88 shooting and the other with 91 passes, with the other stats basically unchanged. Our advice is to choose the pass version and place him in any role of the midfield (even CDC, for example) and you will find yourself a true champion: fast, technical, very valid in the defensive phase and much more. In short: unlock it!
Ousmane Demebelè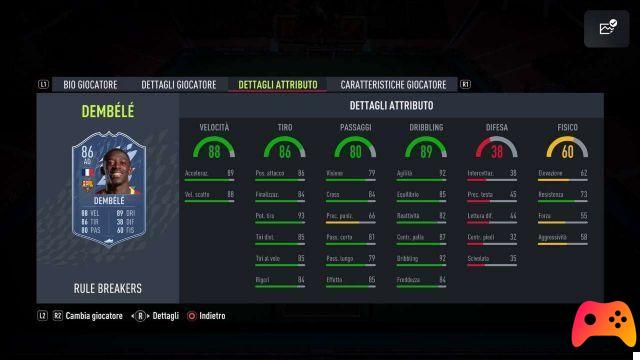 The primacy of our Top 5 dedicated to the number one team of the Rulebrekers, however, is all his: Ousmane Dembélé. The French side, net of the fluctuating and questionable performances in real life, continues to be incredibly dominant within FIFA and in this FIFA 22 he is even more so. For this reason, when we saw the new card, we were already convinced that in this version it would really do the devastation and with good reason. In the new guise Dembélé loses 5 points at speed but gains some as many as 9 shooting, 3 passing and 3 dribbling, thus resulting even more lethal in front of goal and slippery when jumping opponents. Not to make it too long: if you have 900 credits to spend and you need an attacking winger, well, you've found the man for you!
For this number one team of FIFA 22 Rulebrekers that's really everything. With the hope of having helped you in your choice of purchases, we refer you to next week, when we will test and review the second team related to the Halloween event. Happy FIFA 22 everyone!
► FIFA 22 is a Simulation-Sport game developed and published by Electronic Arts for PC, PlayStation 4, Xbox One, PlayStation 5, Xbox Series X and Google Stadia, the game was released on 30/09/2021 The version for PlayStation 4 came out on 02/10/2021 The version for Xbox One came out on 02/10/2021
Version for PlayStation 5 from 02/10/2021
Version for Xbox Series X from 02/10/2021
Version for Google Stadia from 02/10/2021
FIFA 22 is a beautiful game that cannot be missing from your collection: we have decided to evaluate it with a 80%, if you are interested in learning more you can read the FIFA 22 Review by Salvatore Cardone.