As in other Battle Royale video games, even in Call of Duty: Mobile players can have different skins that they can use in Multiplayer or Battle Royale games. Normally, to get them you have to buy in the Store with real money, but it doesn't have to be, as there are also ways to get them for free. While the process isn't that quick, it's worth it, as this way you may have skins in your gallery that other users don't have.
It should be noted that the skins that can be won for free they cannot be chosen by the player, that is, the developers make available one in particular for a limited time so that players complete the tasks and can obtain it. Next, we leave you the ways you can get them and leave you some tips.
Monthly login calendar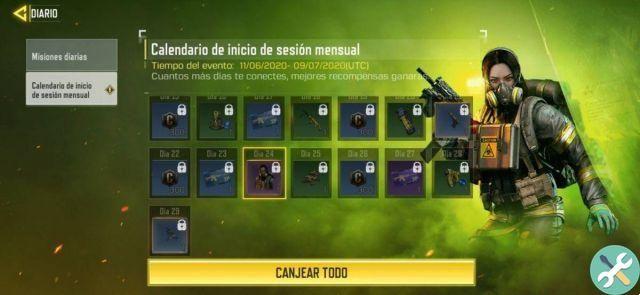 Calendar of
daily rewards in COD Mobile
One of the new additions to Call of Duty: Mobile with the Season 6 update was the addition of skins to the Monthly Login Calendar. Previously, players received some rewards that weren't very valuable, but now it has very interesting gifts, ranging from new firearm designs, knives, skills, vehicles, and even skins. Yes, in this case, getting it is as simple as start the game every day and redeem the reward they give you until you reach the day you can claim the skin, which is usually between days 20 and 29. In order to go to this section, you need to follow the following steps:
Go to option Event.
click on Diary.
Enter the calendar of accesso monthly.
Redeem i awards.
It must be considered that, as the title says, it is a monthly calendar, so the rewards obtained, including skins, they will be changed every month.
Ranked match rewards in Battle Royale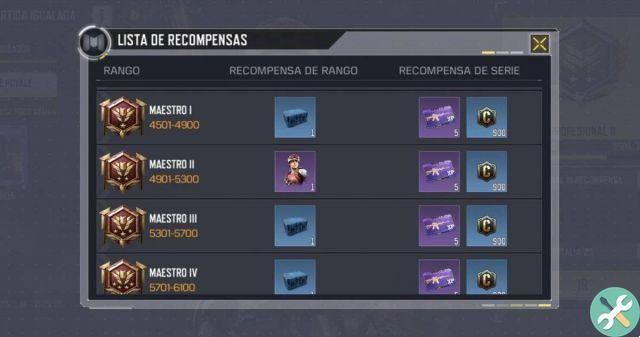 List of rewards for Ranked Matches in Battle Royale
Another way to get free skins is in Battle Royale Ranked Match. If you have played enough and know the game very well, then you will know that in BR mode there is a degree system which is distributed in Rookie, Veteran, Elite, Professional, Master and Legend. Each of them with 5 levels, except the Legend rank which is just unique.
At each stage, players receive great rewards, especially in the higher ranks, which is where the skin you want to get is located. To be more specific, the skins featured in the Battle Royale rewards list they are generally at Master II level. To get here quickly, we recommend that you are at least in the top 10 in BR games and do a good amount of kills or assists, as this will increase your rank points.