For example, what we are going to show you today is a mod that will allow you to have a wide variety of land and sea vehicles called «Vehicle Spawner».
All of these vehicles are in working order and you can use them without problem in any of your games and we will show you how to add them to your Minecraft. This way you won't have any problems in the process and you will be able to use these vehicles as early as possible in your games, however in order to move on the water you need to learn how to build a boat, ship or boat in Minecraft.
Just read this article very carefully and follow our guide and you will see that in two by three you will have all the cars you want in this fantastic game called Minecraft. You will see that after reading this article you will wonder how you could have played all your games without this great mod.
What is the vehicle generator mod?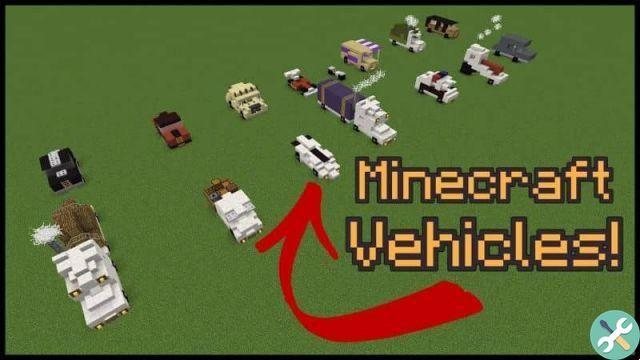 First of all, we will tell you a little about this mod and all its features so that you can get to know it well.
Vehicle Spawner is an amazing mod that adds all types of vehicles to your Minecraft, you can have of everything, from cars to planes in the game. The creators of this mod are the MrCrayfish team who are also responsible for other mods such as those for backpacks or weapons.
So if you are interested in knowing everything they offer on their site, they talk and that's how you get to know their work. On its official page you can also download the vehicle mod, then run and download it to enjoy it.
Once downloaded, all you need to do to use it is move it to the mods folder which will be in the game directory. If for some reason you don't have this folder inside the directory, no problem, create it and put the mod there.
Install Forge
Make sure you have installed Minecraft forge, which is a mod that acts as a kind of mod manager and therefore be able to manage them more easily. If you don't have this mod in your game, don't worry, download it.
Once downloaded, go to the file that will surely be in your downloads folder and run it to open the mod installer. After installing it, you will not only be able to manage the mod that we show you here, but also all the mods you want install in your game.
What can you have with this mod?
The vehicles that you can have with this mod are many and they range from a supermarket trolley to an airplane with which you can fly in your world.
However, not only are cars available in this mod, but you will have other blocks and materials that you will need to be able to create and use vehicles.
It will also have things like gasoline or blocks to repair cars which will make your experience with this mod more realistic. The mod is very comprehensive and easy to use, so go ahead and download and use it in your survival games, however you can learn how to survive in Minecraft to be more successful in your games
We hope that this article has been useful to you and that you can use this fantastic mod for your game, we recommend that you install it in an online game and between you and your friends build a padel to compete with each other to see who is the best driver. You will see that hours of fun await you and you will never get tired of having the vehicles that this mod offers you.