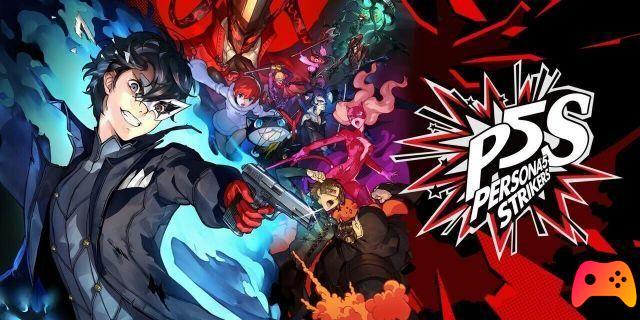 List of trophies for conquering the platinum of the PlayStation 4 version.
Character 5 Strikers is the new action RPG that can be entered in the category of Musou that follows the events of Persona 5. After having explored the characteristics of Persona 5 Strikers through our review, it's time to look at the list of trophies to be obtained to reach the coveted Platinum.
Persona 5 Strikers for PlayStation 4 consists of 47 trophies in total, distributed between 37 bronze, 6 silver, 3 gold and the aforementioned platinum. Let's find out the PlayStation 4 trophy list of the ATLUS Persona 5 Strickers game:
BRONZE TROPHIES
Closed cage of lust - Shibuya prison completed
Vanity cage conquered - Sendai prison completed
Throat cage on fire - Sapporo prison completed
Cage of doomed desolation - Okinawa prison completed
Cage of wrath collapsed - Kyoto prison completed
Shattered cage of arrogance - Osaka prison completed
Friend of humanity - Prison of the Abyss completed
Back in action - You saw the reunion of the Phantom Thieves
Greetings from the past - Wolf has awakened his persona
A rediscovered heart - Sophia has rediscovered the strength of the heart
Special! - You activated a Special
Thirst for power - You used incense
Flawless teamwork - You have carried out an assault 150 times
Know your enemy - You have hit the enemy's weakness 300 times
Phantom Striker - Defeated 200 enemies with a Phantom Twist
All that glitters - You have defeated 10 Treasure Demons
Great friendship - Maxed out the level of a BOND skill
Flair for talent - You have spent Persona Points to boost a Persona's stats
A blade in the dark - You have performed 50 ambushes
What are friends for? - You have completed all the special requests of the Phantom Thieves
Who dares, wins - You have defeated a Nasty Shadow
The ultimate ace in the hole - Obtained all of Joker's Masterful Feats
Jolly Roger - Obtained all of Skull's Masterful Feats
Proud Phantom Master - Obtained all of Mona's Masterful Feats
Flame dancer - Obtained all of Panther's Masterful Feats
Unmatched blade - Collected all of Fox's Masterful Feats
Fist of justice - Collected all of Queen's Masterful Feats
Refined lady - Obtained all of Noir's Masterful Feats
Technological prodigy - Obtained all of Sophia's Masterful Feats
Penitent fangs - Collected all of Wolf's Masterful Feats
An outstretched hand - You've completed a request
Object receiver - Collected a total of 200 items from the Prisons
The test of the cook - You cooked for the first time
Star chef - You have prepared 12 types of dishes
Compulsive purchase - You bought something during the limited time sale
A souvenir - Got a RV souvenir
Treasure hunter - You have opened 50 chests
SILVER TROPHIES
Walk your way - Completed Tree of Knowledge
Escaped from Death - You defeated the Reaper (Reaper)
Connoisseur of masks - You have completed the Prisoner Log
The best of the best - Raised all Phantom Thieves to level 70
The boldest of all - You have defeated all the Ominous Shadows
Ready to help others - You have completed 50 requests
GOLD TROPHIES
Eternal bonds - Raised the level of all BOND skills to the maximum
Masterful thieves - Obtained all Masterful Feats of all characters
No Regrets - You started a New Game + on difficulty on Merciless difficulty
PLATINUM TROPHIES
Authentic Phantom Thief - Collected all trophies
Here is the complete list of Persona 5 Strikers, the new action RPG that can be inscribed in the category of Musou that follows the events of Persona 5.
► Persona 5 Strikers is a scrolling RPG-fighting game developed by Omega Force and published by ATLUS for PC, PlayStation 4 and Nintendo Switch, the game was released on 20/02/2020 The version for PC came out on 23/02/2021 The version for Nintendo Switch came out on 23/02/2021 The version for PlayStation 4 came out on 23/02/2021
Persona 5 Strikers is a beautiful game that cannot be missing from your collection: we have decided to evaluate it with a 83%, if you are interested in learning more you can read the Persona 5 Strikers review
The best guides on Persona 5 Strikers
Persona 5 Strikers - Bond Farming Guide

Persona 5 Strikers - Unlock the New Game +