Trophy hunting as Razputin Aquato.
Double Fine Productions has finally released Psychonauts 2, the sequel to the cult title released on PlayStation 2 sixteen years ago. After all this waiting, you don't want to leave it incomplete, do you? So here are all the goals to pursue to bring home the coveted Platinum of Psychonauts 2.
BRONZE TROPHIES
Employee of the Year !: Explore the Loboto labyrinth
Pupil relief: Receive your first assignment
EVERYONE Hates Socks With Sandals: Make a connection in Hollis's classroom
Time to pass the hand: Get the Luctopus shut down
Revelations for bettors: Stop Hollis' winning streak
Forever Jung: Enter the collective unconscious
Mental health: Reconstruct Ford's fragmented mind
And There you go!: Plate up Compton's treats
Feast of the senses: Complete the Psychore Sensory
Out of mind: Fix Ford's follicles
Perfect match: Complete Strike City
Literally: Deliver Cruller's correspondence
Buried memories: Loot the sharkophagus tomb
The room of the relic: Discover the astrotornio
Archetypal Victory: Go through Cassie's collection
Till last drop: Empty Bob's bottles
Tattered family: Il lamento di Lucrecia console
Flood darkness: Attend the follies of the homeland
Home run: Find the family campsite
Family tent: Help Dion assemble the Aquatendone
Dance, dude, dance: Complete the Queepie mission
Positive vibes only: Complete Gisu's Psychoseismometer Mission
A mushroom among us: Complete Lili's request
Budding Intern: Reach Rank 2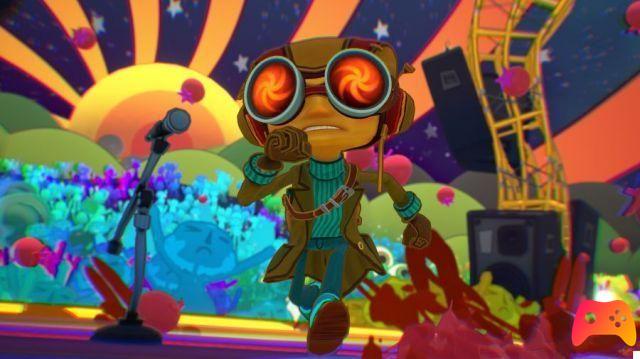 Junior Intern: Reach Rank 10
Senior Intern: Reach Rank 50
Extra credits: Upgrade your first badge
Power at stake: Fully upgrade a badge
Unlimited Power !: Purchase all upgrades
Brooch Dust: Equip your first brooch
Play to test: Equip 3 Badges at the same time
Il bonbon fa ben: Recover mental energy with a dream bonbon
Psychic well-being: Get the astral wallet
Passion for bonbons: Obtain the maximum capacity of dream bonbons
King of frizz: Get maximum PSI lollipop capacity
Otto in photography: Purchase all the octoscatto filters
Woodworm of photography: Take a picture with the Snapshot
Perfect harmony: Tune in to a lost thought
Savings hoard: Fill your astral wallet completely
On the tip of the tongue: Eat a PSI lollipop to regain mental energy
Nuclear power: Combine PSI cards with a PSI core at the Otto-matico distributor
Objection!: Send a gavel back to a judge
Tele KO: Throw an item with telekinesis to stun an enemy
Spiral of fear: discover the real panic attack during his phantom attack
Shared remorse: Throw the anvil of remorse at another enemy
Pyromania: Ignite 3 enemies at once with Pyrokinesis
You can count on me dear !: Talk to Milla in her office
I had forgotten the keys: Return to a brain from the collective unconscious
Silence!: Break 3 gramophones in Homeland Madness
Find peace: Go back to where it all started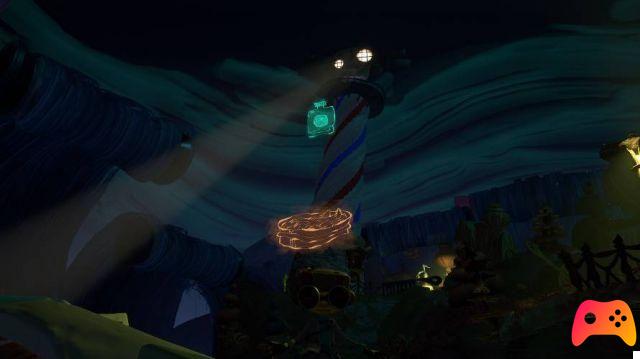 SILVER TROPHIES

Chamomillates: Find all the essential resources for psychonauts
Principal Intern: Reach Rank 100
Ace of burglary: Open all vaults
Fantasy fan: Find all the fantasies
Bundles in order: Tag all emotional bags
Mille play: Purchase all the pins
GOLD TROPHIES

Every beginning has an end: Solve the flood of Grulovia
PLATINUM TROPHIES

Platinum: Unlock all Psychonauts 2 trophies
And with this last platinum you will have completed 100% every possible activity in Psychonauts 2. Happy hunting!
► Psychonauts 2 is a Platform-type game developed by Double Fine Productions and published by Xbox Game Studios for PC, Mac, PlayStation 4, Xbox One, Linux and Xbox Series X, the video game was released on 25/08/2021
Psychonauts 2 is a great game that cannot be missing from your collection: we have decided to evaluate it with a 90%, if you are interested in learning more you can read the Psychonauts 2 Review.