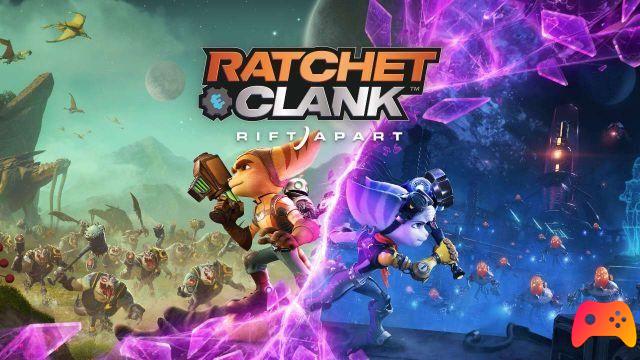 Here is the full list of trophies from the PlayStation 5 exclusive game.
Ratchet & Clank: Rift Apart represents a new beginning for the action platform saga with shooter elements. The exclusive PlayStation 5, available from 2021 June XNUMX, sees the famous Lombax and his faithful robotic friend grapple with an adventure of galactic dimensional proportions.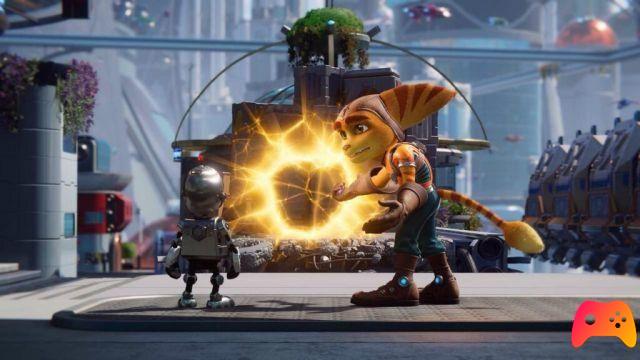 Ratchet & Clank: Rift Apart for PlayStation 5 consists of 36 bronze, 10 silver, 3 gold and the coveted Platinum trophies, for a total of 50 trophies.
BRONZE TROPHIES
Dimensional crossroads - Stay alone in Nefarious City
Millelame sprouted - Defeat the Millelame
Victory! - Complete a Fighting Pub Challenge
DJ Lombax - Play three songs at Zurkie's jukebox
A quartz is forever - Get phasic quartz
Tailing - Get to the Archives
Freedom! - Free Juice
Robotic emotional support - Meet the Repairman
For strong palates! - Feed Bollicina
Returned to sender - Shoot down the mothership on Sargasso
The right size - Retrieve the dimensional map
I'm in charge here - Infiltrate the prison and escape
Travel bag - Enter a hidden dimensional pocket
Armor signed - Get protection
It glitters! - Collect a golden bolt
Quantum mechanic - Repair a dimensional anomaly
Glitch in the system - Complete all Glitch challenges
Unstable character - Hit all the blizon crystals on Blizar and Cordelion
BOING! - Bounce off Big Al, Clank and Qwark's inflatables from the parade
Total relaxation - Find the Nefarious City residents near the hot springs
Telelombax - Turn on the TV in Rivet's hideout
Search for sponsors - Perform five acrobatic jumps on a rail
Icebreaker - Hit five frozen enemies with melee attacks
It's enough - Eliminate two enemies with a single Rimpallatore bullet
Mirror reflection - Kill 10 enemies by repelling bullets with the Vacuity Reactor
Fixed thinking - Deal 20 headshots with the Decapitator
Pearls with porcini mushrooms - Array 50 Mushrooms
Extreme gardening - Defeat 30 enemies while under the effect of the Botanical Sprinkler
It's so fluffy! - Find a rock
Extinction - Eliminate five grunthors
Stay down - Defeat 30 blasted Nefarious soldier heads
Max speed - Perform an acrobatic jump while going at maximum speed with the Hoverscarponi
Warlike plans - Get a spybot
A boulder on the stomach - Collect 10 zurstones for Trudi
Sweet victory - Get some honey for chef Tulio
Maybe I broke something - Collect three Sferax
SILVER TROPHIES
Unstoppable - Complete a Gold Cup Fighting Pub Challenge
Does my tail get bigger? - Obtain and equip head, chest and leg protection
A nose for gold - Collect five gold bolts
Five degrees of devastation - Upgrade a weapon to level five
It also makes coffee - Fully upgrade a weapon
Complete collection - Fill a weapon dial
Armed and dangerous - Get the RYNO
2 for the price of 1 - Defeat both Dr. Nefarious and Emperor Nefarious
To the teeth - Purchase all weapons
Orsomania - Find all the rocks
GOLD TROPHIES
2 for the price of 1 - Defeat both Dr. Nefarious and Emperor Nefarious
To the teeth - Purchase all weapons
Orsomania - Find all the rocks
PLATINUM TROPHIES
Lords of the multiverse - Get all trophies
And here is the list of all the trophies of Ratchet & Clank: Rift Apart.
► Ratchet & Clank: Rift Apart is an Adventure-Platform game developed by Insomniac Games and published by Sony Interactive Entertainment for PlayStation 5, the video game was released on 11/06/2021
Ratchet & Clank: Rift Apart is a game to own at all costs: we decided to evaluate it with a 95%, if you are interested in learning more you can read the Review of Ratchet & Clank: Rift Apart
The best guides on Ratchet & Clank: Rift Apart
Ratchet & Clank: Rift Apart - How to get the "Total Relax" trophy

Ratchet & Clank: Rift Apart - Bolt Guide