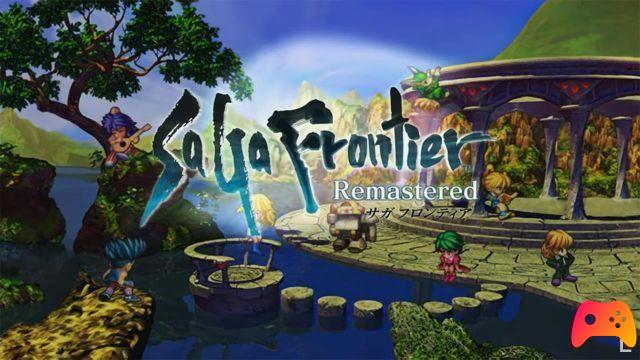 You just need to know how to break the ice
One of the peculiarities that Square Enix has included in SaGa Frontier Remastered is that during the adventures of the various protagonists it is possible to enlist various secondary characters in your team, not necessarily human. Among these there is Suzaku who is normally encountered as a boss on top of the Mount Mosperiburg. There is, however, a way to get the firebird to our side, even if it will take several attempts.
In the first screen of the mountain, face the enemy in the shape of a fairy which you should see on the right side. It doesn't matter which enemy or group of enemies it turns out to be, the important thing is that you face that unit on the map.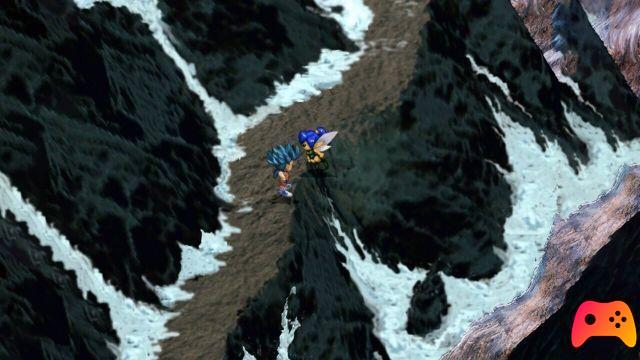 After winning, exit the area by continuing north. DO NOT enter the first cave, go through the next area while avoiding the enemies and pass it by entering the mountain. Pass this cavernous area as well, avoiding the enemies and exit through the opening at the top left.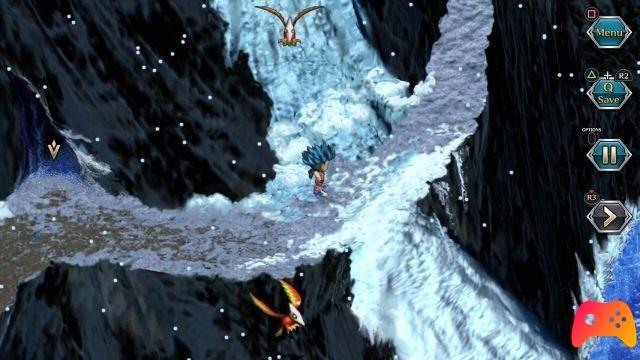 You'll find yourself outside in a snowy field with three boar-shaped enemies scurrying far and wide. If you have defeated the fairy, there is a possibility that a snowman will appear in the lower part of this area. Unfortunately there is no certainty of finding it, its appearance is casual, but it is always triggered by the defeat of the fairy in the first area.
So if you don't see the snowman go back and do the procedure again: defeat the fairy, go through the areas and check the snowy field if the snowman appears. It may take numerous attempts, so don't give up. Also make sure that the snowman appears in the lower part of the area, where you can see it in the image, NOT in the left area. If you see it there, forget it and try again.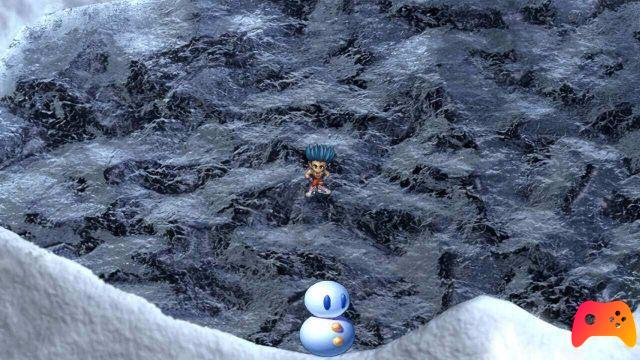 When the snowman finally appears in the right position, we advise you to save because a fight against the fearsome awaits you Jotnar, which we assure you will give you a hard time. If you have with you Dr. Nusakan (available in the adventures of Blue and Riki) with the spell Death you could try to defeat him with it, but keep in mind that success is not guaranteed.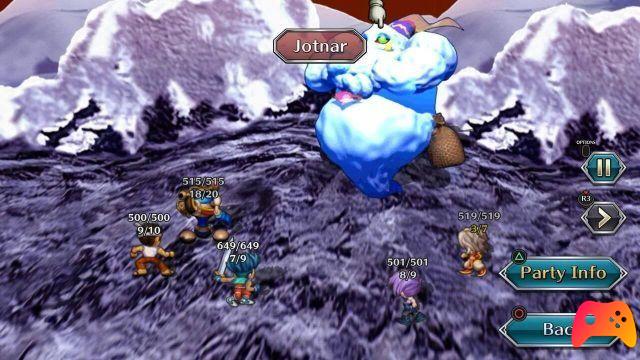 Once you've defeated Jotnar, exit the snow field you came from and return to the cave. Continue up to the right and you will find Suzaku free from the ice that imprisoned him. Touch him and you will enlist him in your party to help you complete the adventure of SaGa Frontier Remastered.
► SaGa Frontier Remastered is a JRPG-type game developed and published by Square Enix for PlayStation 4, Nintendo Switch and PC, the video game was released on 15/04/2021
SaGa Frontier Remastered is a nice game that we recommend: we decided to rate it with a 73%, if you are interested in learning more you can read the SaGa Frontier Remastered Review
The best guides on SaGa Frontier Remastered
Saga Frontier Remastered - Trophy list