We have already said on more than one occasion that in the Google application store you will find Android games of all kinds and for all tastes.
Platforms, action, races, puzzles… but are there games for cycling lovers? Of course and we will not fool you, they are really fun.
We leave you i best cycling games that you can enjoy on your Android phone or tablet.
Games that all cycling lovers should install on their smartphone
Head of cycling live
Cycling Badges Cycling
Live cycling race
Bike Unchained
Touchgrind BMX 2
MTB Hill Bike Rider
It doesn't matter if you are looking for realistic cycling games or if you are more of stocks that bet on the imagination. In this top we have selected those who today are undoubtedly the best games that you can download to your Android phone or tablet.
Head of cycling live
Live Cycling Manager puts you in the shoes of a sports director of a professional cycling team. As in similar titles, such as the football managerial one, the our goal will be for our team to become number one.
We can customize the club to our liking, hire the best professionals such as cyclists, coaches or doctors and control the finances of our team. All accompanied by very captivating 3D graphics.
Cycling Badges Cycling
This video game developed entirely in Spain, he is not looking for realism but for fun. Race on laps of Spain, Italy and France, choose from one of 12 teams and compete against the car or against other players on the same device. Hours and hours of guaranteed fun in one of the funnest games we've been lucky enough to try.
Live cycling race
Here, unlike the previous game, we find a 3D racing game with all the ingredients needed to simulate real sport.
We have a complete tour with 21 different stages in which we have to customize our cyclist, choose the most suitable bike for us and overcome the challenges of each stage.
Bike Unchained
And since cycling is so much more than road racing, Bike Unchained ci offre la mountain bike thanks to high-speed races filled with deadly maneuvers, freestyle action and insane tricks.
With the most incredible bikes, we will travel the world as an invincible team and we will climb to the top of the podium.
Touchgrind BMX 2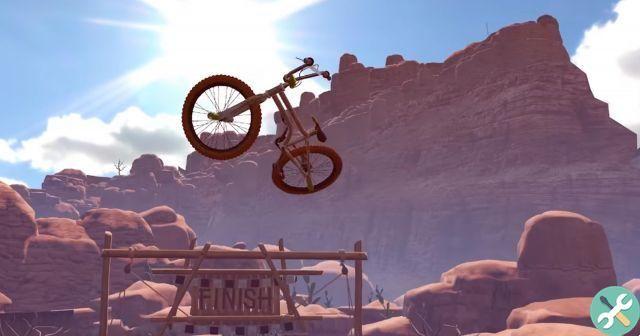 One of the best mobile cycling games out there.
Everything you need to become the re of Touchgrind BMX 2 are good reflections and good technique when it comes to doing stunts with your bike. This is probably the best BMX game for android, with dozens of different tricks to perform, circuits of all kinds and a fun multiplayer mode with which to compete with the rest of the players in the world.
MTB Hill Bike Rider
If mountain bikes are your passion, MTB Hill Bike Rider is a game made for you.
You'll get as far as possible with your bike, avoiding obstacles and doing the weird stunts. The game has 3D graphics and intuitive controls.