Let's find out how to reach 1000G in the Neon Giant title for Xbox One, Xbox Series X / S and PC.
Finally The Ascent lands on PC, Xbox Series X, Xbox Series S and Xbox One with day one availability on the game pass (here our review) and a goal list that is not too complex to reach 1000G. The Neon Giants title features an Action RPG / Hack and Slash setting, split into a single player campaign and multiplayer co-op mode for up to 4 players. To complete its 46 objectives it will therefore be necessary to face both the single player and multiplayer modes, as we will see later.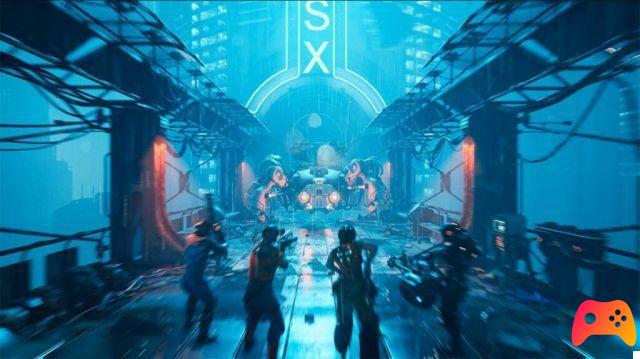 So here we are at the moment to go into the details of The Ascent and its important list of 46 available objectives:
We're just getting started - Kill the first enemy 5G
suicidal - Die more than 100 times 5G
Do Over - Reset your skills once 5G
Fair trade - Sell something 10G
Sashimi - Get killed by a katana 5G
Helping hand - Resurrect a DBNO friend 20G
What just happened? - Complete Arcology Blues 15G
Party crashed – Completa Mutual Dependencies 15G
A new friend – Completa Trading Places 15G
Power hungry - Complete Empowerment 15G
Data Digging - Complete Data Miner 15G
Mnemonic Hunt - Complete Foreign Code 15G
Everyone's a smuggler – Completa Trace Protocol 15G
Magenta Power – Completa Syntax Error 15G
Nothing personal – Completa Recompile 15G
Severed Board – Completa Board Meeting 15G
Protocol 61A - Complete Project MenShen # 1 15G
Something out there - Complete Project MenShen # 2 50G
Win - Complete all main missions 100G
Next level AI - Upgrade your IMP 20G
Appreciation - Get a thumbs up from Kira 20G
Drop your weapon! - Drop an explosive grenade on an enemy 10G
Added extras - Equip 2 augmentations and a module 15G





Fullchrome - Equip augmentation and improve fullchrome appearance attributes 20G
Self improvement - Deal out 3 Skill points 30G
Teamwork - Start your first co-op session 10G
Fan - Upgrade one weapon at most 30G
Getting things done - Complete a side mission 20G
For both our benefits - Complete all side missions 50G
Anonymous withdrawal - Hack an ATM 10G
Free candy - Obtain items by both hacking and destroying vending machines 15G
Omnihacker - Hack at least one of each hackable category 20G
Black ICE - Deploy Black ICE against a hacking enemy 25G

Getting out of the slums - Earn 200 uCreds 20G
Bounty Hunter - Redeem a bounty 20G
Snooze or lose – Prova lo Snooze 10G
Fight smart - Kill a robot with energy damage 20G
Extreme Overcharge - Do at least 4000 Stasis damage on a target 30G
Opportunist - Kill 10 enemies with explosive barrels 20G
Overkill - Kill another enemy by overloading an enemy while in stasis 30G
Hygiene –Use the sink after flushing the toilet 15G
Explore - Discover all the locations 40G
Tourist - Jump on the Interlink Express 20G
Comprehensive - Complete the Codex 50G
Curious consumer - Read 10 datapads 15G
Flatliner - Unlock all Codex voices on enemies 50G
Here we are at the end of this guide for The Ascent thanks to which it is possible to discover all the 46 elements of the rich objective list to be able to "mill" the title on Xbox. So you just have to go into the various levels of the arcology built by Neon Giant and discover all the secrets they contain.
► The Ascent is an RPG-Adventure-indie game developed and published by Scary Curve Digital for PC, Xbox One and Xbox Series X, the video game was released on 29/07/2021
The Ascent is a beautiful game that cannot be missing from your collection: we have decided to evaluate it with a 88%, if you are interested in learning more you can read The Ascent Review