Its style of play, in which it also allows you to build buildings to protect yourself and even to fly helicopters, has won the affection of many users to the point of remaining one of the current games on the market.
Its importance is such that in 2018 it was consecrated as Game of the Year ai Golden Joystick Awards 2018. This has made the game keep releasing updates and seasons which include missions, daily challenges, and many other cool things.
One of the big news of this game was the incorporation of a creative mode in the game where users can move freely and without time limits on the map to create any kind of thing.
This way there is a chance to create walls, buildings, minigames using all the tools available on the island and skins can also be obtained.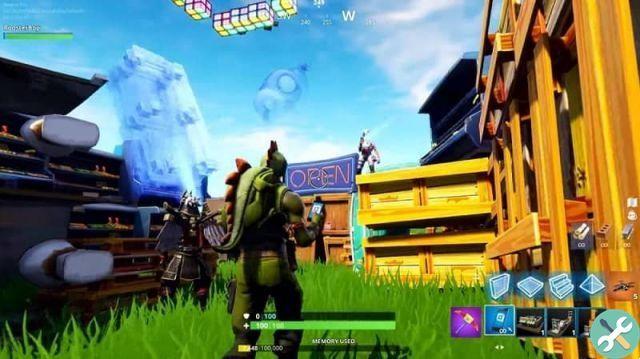 However, there are many users who don't really know what to do and how to get the most out of this mode. For this reason, in this article we will explain what to do in the creative mode of Fornite.
Visit different worlds in creative mode
One of the coolest things you can do in Fornite's creative mode is visit the different worlds available. Upon entering this mode, you will find an area where there are different stones and portals and each of them leads to a different world.
In the golden portals you will access all your saved maps, while in the rest of the portals you will be able to access minigames created by other users or by Epic Games itself.
Create Pixel Arts
Being a totally free and open world, you can make all kinds of Pixel Arts creations in Minecraft game style. To make a pixel art you need to open the color palette found in the inventory. This is opened with the Y button.
The next thing will be to take the cell phone that is in part number 2 of the inventory and then to be able to choose blocks from the color palette. You have to select the block with the button with which it is fired.
You can push, pull and twist the blocks to build any number of unique and exclusive designs. The limit is set by you and your imagination.
Obstacle courses
It consists of creating all kinds of structures ranging from floors and walls, to platforms and then you can traverse them with cars, airplanes, among others.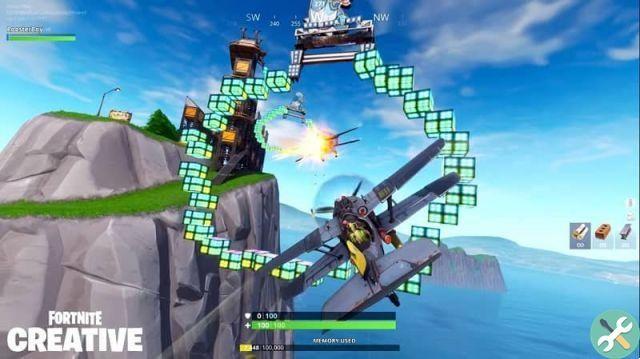 It is a lot of fun to create racing tracks and invite your friends to run with you. You can do it all, from placing obstacles to setting an air route in which planes have to fly. This is a big draw in creative mode.
Fly and create with a better perspective
Another option that this creative mode offers us is to be able to fly to better control the area we want to build and have an aerial view of our buildings. To enter airplane mode you will need to press the jump button twice
Create minigames for teams
Another great advantage that the creative mode offers is that you can share the same game with 16 friends with whom you can participate in the creation of minigames.
You can invite your friends to join and play minigames designed for four teams or simply to build or show your creations to your friends.
Place all kinds of floating objects
One of the funniest things to do in creative mode is to place any type of object floating in the air.
To do this, all you need to do is set the option to throw paid items when placed on the map, as if it is on it will fall automatically the land.
In this way, all kinds of objects will remain static in the air, so that you can build anything from an ice rink or cars, to murals, platforms and stages to be able to climb or do parkour.