One of the most powerful weapons present in Assassin's Creed Odyssey is the legendary spear that takes the name of Poseidon's trident, the main feature of this weapon is to increase the Warrior's damage as well as increase the probability of making a critical, also allowing to breathe underwater.
Precisely this ability, or the possibility of diving indefinitely, guarantees the possibility for the most hardened players to be able to explore underwater places. To get this mythical weapon, you will need to head to a remote location and fight against hungry beasts.
HERE'S WHERE TO FIND POSEIDONE'S WEAPON
The trident is located in one of the legendary chests, the weapon will be kept inside the temple of Poseidon located on a small unnamed island in the easternmost part of the map. Precisely the island is located south of Chios and north of Samos, the chest will be found under the statue of Poseidon placed on one of the rocks.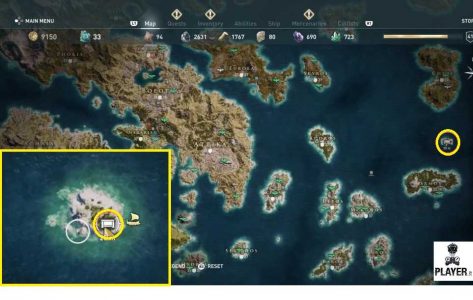 It will not be easy to reach the chest, this will be guarded by level 41 lions that will have to be killed, once defeated you can then get the spear.
HOW TO BREATHE UNDER WATER
Among the spear's stats is one called Breathe Underwater, this ability allows players to be able to dive for an infinite amount of time while equipped. By upgrading the spear, it will also be possible to obtain underwater breathing, which can be used on any weapon, allowing the player to also change the weapon and in any case be able to continue to maintain the ability of underwater breathing.
► Assassin's Creed Odyssey is an Adventure-Action game developed and published by Ubisoft for PC, PlayStation 4, Xbox One and Google Stadia, the video game was released on 05/10/2018
Version for Google Stadia from 19/11/2019
Assassin's Creed Odyssey is a beautiful game that cannot be missing from your collection: we have decided to evaluate it with a 89%, if you are interested in learning more you can read the Assassin's Creed Odyssey Review