Explore all the streets of Forza Horizon 5 and Mexico moving quickly between points on the map can be difficult. For this reason, we reveal to you how to unlock fast travel as quickly and efficiently as possible.
First of all it is good to specify how fast travel takes place in Forza Horizon 5. Right from the start, you can only move in the areas of the festival, all obviously at a cost in game credits. Scattered on the map, however, there are 50 signs which, once destroyed, will allow you to travel for free (each sign is 200 credits less than the cost of fast travel), in line with the previous chapters of the Playground Games series.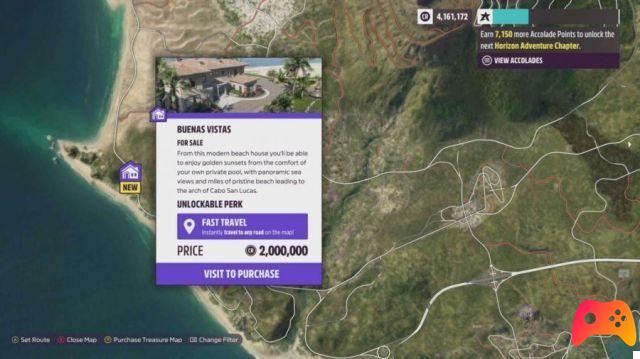 But what if we want to travel to a specific point on the map? There is a way to do it right away. You will have to buy a specific house, namely: the house Good views. Such a dwelling it will be in the southwestern part of the map and cost 2.000.000 credits. While the price may seem high, it will pay off over time with the convenience of traveling quickly to any point, whether you are alone or in a group with a caravan.
► Forza Horizon 5 is a running-Sport type game developed by Playground Games and published by Xbox Game Studios for PC, Xbox One and Xbox Series X, the video game was released on 09/11/2021
Forza Horizon 5 is a game to own at all costs: we decided to evaluate it with a 95%, if you are interested in learning more you can read the Forza Horizon 5 Review by Federico De Santis.