Download the application on Android
One of the simplest ways to download this game is from the platform that gave it birth, namely Android. Obviously, for that, you need to have a device that is compatible with the game's specs.
In this sense, it is advisable to download Arena of Valor to have a phone or tablet with at least 2GB of RAM and 32GB of space. Furthermore, the ideal is to have a processor higher than 1,7 GHz, as well as a recent integrated GPU, to play with it with better performance.
Now, the next thing is to enter the Android store. Where, in addition to getting other popular games like Among Us or Clash Royale, you will also be able to find the Arena of Valor. All you have to do is go to the search bar at the top, write the name of the app and press the magnifying glass symbol on the keyboard.
Subsequently, you will see the application icon among the results, which you have to press to access the download panel and then click on «Install». This will allow you to install Arena of Valor on your mobile device, and you will proceed to make the related changes. Once the process is done, you can enjoy the game.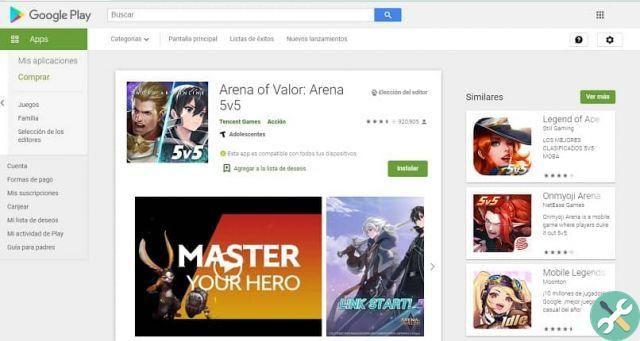 How to download Arena of Valor to play on PC?
As you may have noticed, the Arena of Valor game does not currently have a compatible version with none of the PC operating systems. However, that doesn't mean you can't enjoy the game from the comfort of your computer.
That said, there are one or two ways to install the application in this medium, the most common, via an Android emulator. This program can mimic the operation of a device from your PC desktop, but for this you will need a significant amount of RAM (8 GB).
As for the emulators you can use, there are many and very good ones, but the most used for games are Bluestacks and Memu Play. These are compatible with Windows and, once installed, will allow you to choose the specifics of the Android system you want to emulate.
After completing this step, you just have to run the operating system you have configured and once it starts you will need to access the store from there. Now, all you have to do is go through the application search process to download Arena of Valor and play it from your PC.
You can also download the game application manually from the browser, which won't be a problem, as it's a free copy. Once you have a copy of the app, you just have to drag it to the android system screen emulato and it will be installed automatically.
It is worth mentioning that there are many benefits to using this system from your computer. Mainly because you have better processing hardware to run games of this type or any other program.
Download and install Arena of Valor on Nintendo Switch
As you read before, this game has officially reached other media and platforms and one of them is Nintendo. The company has incorporated the game into its free download alternative, allowing you to enjoy this great app on a device made specifically for playing.
In this sense, downloading Arena of Valor is simple for that you have to enter the games section of Switch. From there, you can find the application in the search section, and when you find it, you will just have to go to the panel and download it to your device.