How did you lose your farm?
This happened when you updated the game, changed devices, or shared your account, and the other person changed your details. It also happens because you haven't linked your account when you first installed the game. Of course, the latter is very common in Supercell games, as nothing tells you at first that you should link your account.
Many people go through this and believe that they will not get their farm back or that trying to do so is very difficult. But is not so; Here we will explain 2 quick options to be able to recover your farm.
First option: when you have not linked your account
Upon entering the game, at the top left, you will see a button with a yellow gear icon.
Press it and the will appear settings window.
Go to the bottom and click on the button on the right that says "help and assistance", then you will give "my account".
A list will appear, at the end you will find "Do you need more help?" press the blue button that says «next».
It will take you to talk to a virtual game developer, it will be like a conversation on Messenger. He will ask you questions like: What is the name of your farm? What is the name of the neighborhood where you located your farm? and what is the level of your farm?
Answer the questions in detail! Then they'll ask you to add a Gmail email, create your account again, and voila, you have your own farm!
Second option: take back your farm with Facebook and Google Play
The second option is much simpler. If when you downloaded Hay Day you chose to look at the settings window before starting to play and you linked your Facebook and Google Play options, you did the right thing. This step saved you time to recover your farm.
Recover with Facebook
Repeat steps 1 and 2 of the first option to access the settings.
At the bottom right of the screen, you will see a red button with the "Facebook" icon that says "disconnected".
Press it and a message will appear saying "enter your username and password". IS important that you enter the same data that you entered at the beginning when you downloaded the game, that's it, you have your farm again !.
Get it back with Google Play
Repeat the steps as explained with Facebook, you will see a red button at the bottom left of the screen that says "disconnected" has a green game controller, press it.
A list of your Gmail accounts will appear, select the one you connected when you downloaded the game.
It will load automatically and voila, you have recovered your account with Google Play.
Hopefully these options have helped you get your farm back and that you are ready to start playing! Now, since you don't want that to happen to you again, we tell you how to never lose your farm again.
How can you make sure your farm never gets lost again?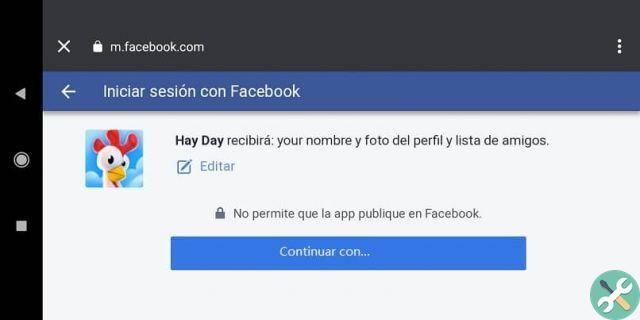 Enter the game settings, press the top left button with the yellow gear icon.
You will see two options, "Google Play" and "Facebook", both of which will be in red and say "disconnected".
For Facebook you need to enter your username and password.
For Google Play you just have to choose the Gmail account that you have affiliated with your Facebook.
After entering the data in both options, they will turn green and say "connected" and that's it.
With these options you can load the same game you are in and connect with your friends to keep playing. We hope this article helped you; keep reading on our page to continue to find out how to improve your farm in Hay Day and other topics of interest.