What kind of game is Minecraft and what elements does it have?
It is a video game that does not really have a certain or specific objective; it is called open world because it allows the player to choose the way to play your game, giving the freedom to play however he wants; It is represented by blocks with the idea that they are placed and destroyed.
Also, the objects represented they have a three-dimensional cubic shape placed on a fixed grid or pattern. The participant can move freely, being able to modify what he wants through these blocks; always respecting the fixed pattern of the game.
Contains several elements of nature, such as stone, logs, minerals, earth and more. Villages, marine temples, pyramids, biomes such as savannas, deserts, tundras, among others, are also reached. It also has the cycle of day and night; that in reality the day is equivalent to twenty minutes of play.
What is the Rustic Mod for Minecraft and how is it installed?
The Rustic mode it is one of the modified versions, so that you can customize your Minecraft game, because some parts of the game are included or modified. That is, it is a package that contains what you need to be able to use objects in a better way; among these are those of agriculture, decoration and alchemy.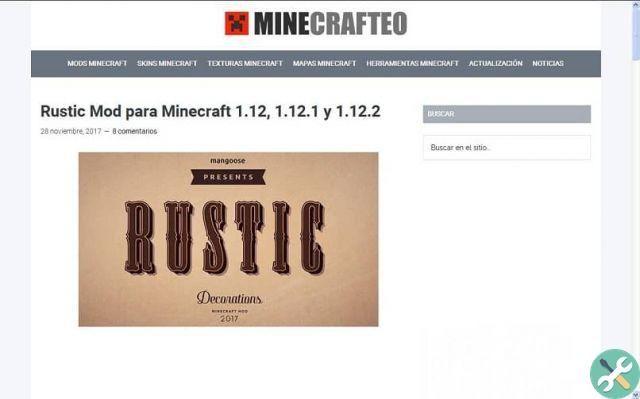 We then add more functional blocks, materials and new objects in a rustic style, among these we have 1.12, 1.12.1 and 1.12.2; Now, the first thing you should do is download Minecraft Forge and the Rustic Mod to the following addresses:
http://files.minecraftforge.net/
https://www.minecrafteo.com/rustic-mod-para-minecraft-1-12/
Then, after both downloads are complete, the next step is to double-click what we downloaded from Forge to install it in the game; next, we copy and paste the Rustic Mod in the "minecraft / mods" folder, and finally the game starts.
How to plant tomatoes in Minecraft- Rustic Mod Crafting?
Thanks to Rustic Agriculture you can make various crops in the orchards, we can plant tomatoes, for this, we get the soil from fertilized blocks; which is made with bone dust. This block has two important features:
One is that it is the same as plowed land, but it already contains water.
The other is that it's not that easy to destroy yourself. Moreover, in this land you can also jump on it without problems to destroy it, being able to plant anything.
How to get seeds for planting tomatoes in Minecraft
Strive for the best seeds, yes they get by breaking the common grass, from which wheat seeds are normally obtained. Then we place on the fertilized earth and in an orderly manner, wooden poles or wooden sticks, which we will form by taking three worked woods of any type; for tomatoes, they can be stacked on top of each other vertically, to give them height as the tomato grows.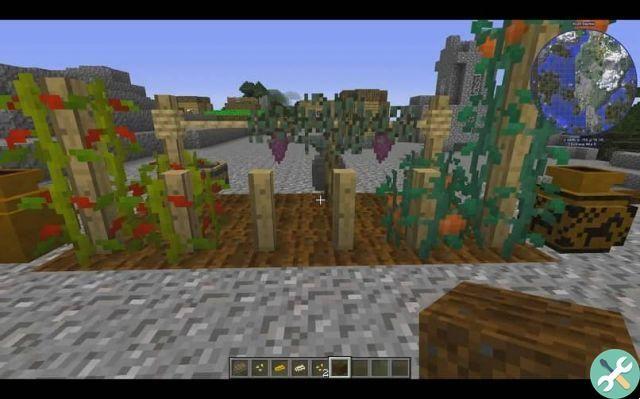 Next, do it right click with the seeds to be able to plant them, at first they will look small, but then they will start to grow upwards and once the tomatoes are ready, make another right click to remove the crop; These will burst without breaking the plant, saving more seeds.
To conclude, we can observe that the Minecraft game has the advantage that the player or players have the freedom to create the game as they see fit. Furthermore, continuously update versions and mods, offering new alternatives for a well-customized game.