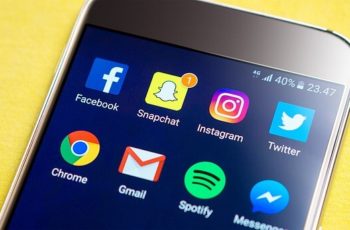 Snapchat is a very well known messaging app, it is a wonderful application that destroys messages after viewing them. You can send a photo, video, or text on Snapchat and the message disappears after a short time or after the recipient watches it.
Compatible with both iOS and Android devices, the popular Snapchat application allows you to take photos or videos where filters or special effects are applied in real time.
But if you know Snapchat well, you also know that the received files have a limited life span. However, many Snapchat users would like to keep these photos and videos on their smartphones longer to review them whenever they feel like it. That is why it is useful to know how to save Snapchat videos and other photos taken via the app.
Actually, you can save photos, videos or shared history on Snapchat, because there are apps available to perform Snapchat file saving on iOS or Android. Today we present 5 useful applications to save videos and photos on Snapchat. How to save photos and videos on Snapchat?
Snapchat: how to save photos and videos? iOS and Android
1. Snapbox Saver
This is the best iOS app to save Snapchat photos and videos. With Snapbox, all Snapchat photos and videos can be saved permanently. Whenever you get instant message, open Snapbox app and login with user ID you use on Snapchat, enter password, all your Snap data will be saved.
2. Snapchat saver
Android is an important platform for Snapchat, and many users use the Android version of Snapchat. Snapchat saver is a well-known android application for recording messages received on Snapchat. This application allows you to save all instant photos or videos. You can also save the history of photos or videos. Note that snaps must be saved before opening them on Snapchat.
3. SnapCrack
The SnapCrack application is packed with very powerful features. Aside from saving photos, videos and history, you can also send snapshots from your photo album. It also has a paid version for around € 4.
4. SaveMySnaps
SaveMySnaps is an Android application that allows you to save all files and view them at the same time. Remember to download them before viewing them on Snapchat. The free version of the software contains advertisements. Also, users have to enter their Snapchat ID every time they want to use SaveMySnaps.
5. SnapSave
This Android app completely replaces your Snapchat app. You can view and save snaps and send snapshots from SnapSave. Keep in mind that its use on Android has become more complex since Google removed it from the market (you have to find it online to install it).
6. Apowersoft Screen Recorder (Android)
With this software downloadable from Google Play, Android users have a great option to save Snapchat videos. Indeed, this program is designed to record any activity on the screen, simultaneously with the sound through the microphone. Just adjust the video settings as per your need, then hit the record button. If you prefer images to videos, there is also a feature to take screenshots.
7. Apowersoft iPhone / iPad Recorder
Existing in Mac and PC versions, this tool allows you to make a video of everything that happens on the screen. Based on AirPlay function, Apowersoft Recorder iPhone / iPad plays your iOS device display on your computer big screen, so it is suitable for Snapchat video recording. You can select the appropriate audio input (microphone or sound system). In addition to videos, it is also capable of taking snapshots, which is ideal if you want to save Snapchat photos as well.
8. Display Recorder (iOS)
The advantage of Display Recorder is that it allows you to record the iOS screen without having to go through a computer. It is a great choice for recording activities on your phone, including Snapchat videos. Offers a large selection of audio and video output formats.
After that, you can also edit the saved photos using Photoshop Free. Here are the best iOS or Android apps to save or upload Snapchat photos, videos and history.
Unable to connect to Snapchat. What to do?
Further Reading:
How to share a YouTube video to Snapchat
How to Cameo on Snapchat
How to save TikTok videos
How to change Snapchat username
How to slow down a video on Snapchat