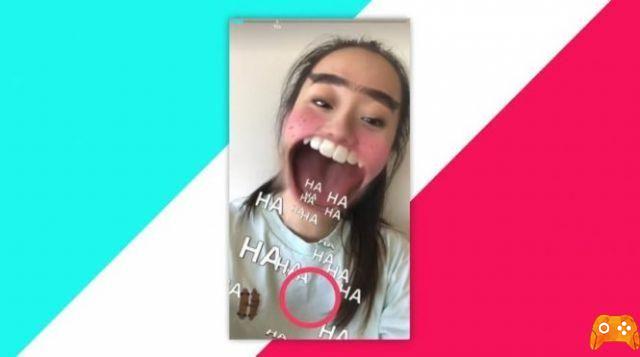 Social networks like Facebook or YouTube have hundreds of millions of users. We also assume that they are the most famous, and they are… but in the West. The Asian market, especially the Chinese one, is a world apart in everything that has to do with social networks. This is one of the reasons why theTikTok app was the most downloaded during the month of October compared to Facebook, Snapchat, Instagram or YouTube.
Although it has great success in Asia, TikTok is an international app available worldwide, which has gained over 30 million users in the past month.
What is TikTok?
What is TikTok? È a social network of Chinese origin based on short videos, between 15 seconds and a minute long. Last August he joined Musical.ly, another similar social network, but focused on music, for which he paid $ 1.000 million.
With TikTok you can upload short videos which you can then share with friends, such as cosplay, jokes, imitations, dances, music videos, etc.
The app has a huge amount of photo filters, augmented reality, art, etc. To personalize your videos and give them a personal touch.
Of course, it also includes messages, votes, lists of friends, followers, etc.
As we said, TikTok merged with Musical.ly in August, keeping the name. It was a decision that not everyone liked, but in the end it seems to have worked. During the month of October, TikTok has surpassed downloads from Facebook, Snapchat, Instagram or YouTube.
In this graph we can see its spectacular growth (the purple line). In August it was much lower than the BIGs on social media, but has grown to surpass them this October.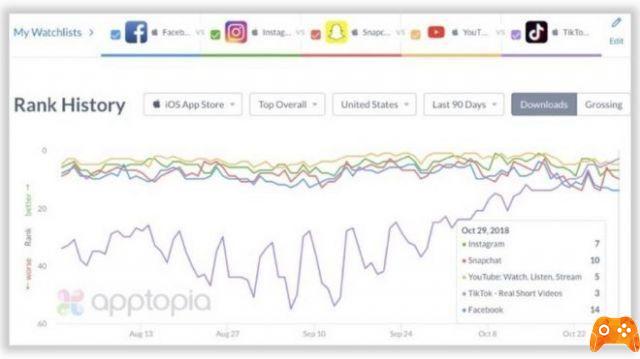 Since merging with Musical.ly in August, went from 100 to 130 million users, although experts say it was due to the investment made in advertising, which made TikTok best known.
Although TikTok is a success, especially in Asia, users are still not loyal enough. Only 29% of new users use it regularly.
We will see if it will consolidate as a social network or will it remain just a fad.
If you want to try it, TikTok is available for iOS and Android on its official website.
Further Reading:
The Best TikTok Video Downloaders
How to add your music to a TikTok video
How to connect Instagram to TikTok
How to share a YouTube video to Snapchat
YouTube vs Instagram Reels Stories: Which TikTok Clone is Better