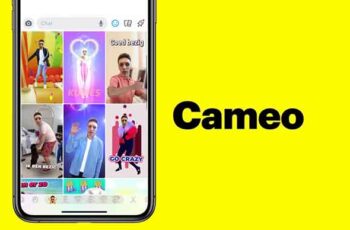 Snapchat is one of the best communication apps because it is very innovative and different from all other apps. Snapchat is constantly improving, with many new features being added all the time. One of the most anticipated is the new Cameo feature.
If you want to know how to make cameo on Snapchat, you've come to the right place. Read on to get great tips and tricks and learn how to make cameos together with your friends. That's right, cameos for two people are one thing too!
How to know if someone has deleted your Snapchat conversation
How to see Snapchat stories without them knowing
How to slow down a video on Snapchat
How to take a Snapchat survey
The camera does not work in Snapchat: what to do
What is Snapchat Cameo?
Does Snapchat allow its users to star in movies? Well, not exactly. The cameo feature is there to broadcast a quick video reaction to your Snapchat friends. There are over a hundred sample videos that you can attach your face to.
Basically, a Snapchat cameo is like a selfie you insert into a funny clip. When you create a Snapchat cameo, you can share it with your Snapchat friends via chat. You can also star in a Snapchat cameo with your friend.
Snapchat will remember your selfie and allow you to use it with multiple cameos, without the need to keep taking new selfies. Of course, if you want to change the selfie and create a new one, you are free to do it whenever you want.
Snapchat isn't the first app that has allowed people to do this sort of thing. Some Chinese apps like Zao have already done something similar. However, this is a really fun and silly feature, and it fits Snapchat very well.
How to make Snapchat Cameo?
If you can't contain your excitement anymore, don't worry. Follow the instructions to create a cameo on Snapchat yourself:
Make sure you download the latest version of Snapchat for your device. The link provided will allow you to download this fun app on Android or iOS devices.
Launch Snapchat on your device.
Open Chat and select the smiley face button and select the outline of a face with the plus symbol.
Select the Cameo background and align your face with it so that it fits naturally. When you're ready, take a selfie.
Stay in Chat and see all the Cameo options. Select one and press Send to share it with your friends. You can send your cameo to multiple people at the same time.
Now that you have created your cameo profile, you can continue sending various cameos from the chat window while talking to your friends on Snapchat. You can also create quick cameos from the Recent tab, as the app will remember your cameo pattern.
You can change this pattern whenever you want by visiting the Cameo menu again and choosing another Cameo tile. Next, tap on the More button and choose New Selfie. You can also preview your selfie here.
How to Make Snapchat Cameo for Two?
Everything about Snapchat is more interesting when you do it with friends. Cameos can also be a joint effort. When you first create a cameo, there is an option to enable cameos for two people. Tap it and enable cameo creation with friends.
This way you can have fun making a double cameo and have fun with your best friends. For now, only two people can participate in Snapchat cameos, but maybe that number will grow in the future.
Also, make sure you allow your friends to use your Cameo Selfie. Otherwise, cameos with friends won't work.
Open Snapchat and go to your profile.
Select the settings and choose to use my selfie cameo.
Choose Everyone or My Friends. If you choose Only Me, you won't be able to take two-person cameos on Snapchat.
Have fun with your friends
Snapchat is a fun platform that keeps getting better. Snapchat Cameo is a great new addition that has got a lot of people interested in Snapchat again. The best way to test cameos is to make as many cameos as possible with your friends.
You will definitely share a laugh and some fun moments. Recently, Snapchat said they will be introducing new cameos in the future, so keep your eyes peeled for updates. Which Snapchat cameo is your favorite? Let us know in the comments section below.
Further Reading:
How to see Snapchat stories without them knowing
How to change Snapchat username
How to share a YouTube video to Snapchat
How to slow down a video on Snapchat
How to take a Snapchat survey