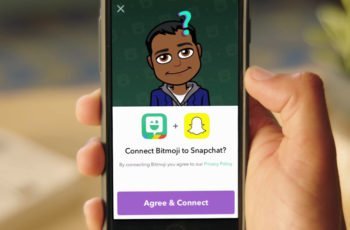 If you've used Snapchat, you've probably noticed that some of your friends have a cartoonish profile picture that they can even include in several Snaps. This is a "Bitmoji". Let's see how to set one up for use with Snapchat.
How to set up Bitmoji and Snapchat
For this to work, you need to have the Bitmoji app installed on your phone and Snapchat. It is available on the iPhone App Store and Google Play Store. Open Snapchat and tap the icon in the upper left corner of the screen to access the Settings page, then tap on Add Bitmoji.
Tap Create Bitmoji. If you have already installed the Bitmoji app, it will open; otherwise you will be directed to the App Store or Google Play Store to download it. Then, tap Create with Snapchat or sign in with an existing Bitmoji account.
Now it's time to start creating your Bitmoji avatar. Select if you want to appear as male or female. You will be asked if you want to take a selfie.
Work through all the customization options - there are millions of possible combinations - and you should be able to create a reasonable approximation of what you look like. I tried it too and came very close.
Tap Save Avatar followed by Accept and Connect. This will save the Bitmoji you just created and link it to your Snapchat account.
You are now ready to use your Bitmojis in Snapchat. You'll see it in the middle of your Snapcode, and your friends will see it in their contact list. You can add stickers with your Bitmoji to your Snaps, and if you're writing directly to a friend, use the stickers that contain all of your Bitmojis.
You can go in and edit your Bitmoji avatar at any time, whether from Snapchat or the Bitmoji app. Was it easy to set up Bitmoji and Snapchat? What are you waiting for?
Read also: How to see Snapchat stories without them knowing
Further Reading:
How to change Snapchat username
Five apps to create emojis with your face on Android
How to see Snapchat stories without them knowing
How to Cameo on Snapchat
Complete guide to creating and using Facebook avatar