The necromancer is one of the classes of Diablo II: Resurrected - remake of Blizzard just released - chosen for its high offense capacity and, by delegating the task of attack to summons and ranged magic, it becomes easy to manage, as long as you have a well-studied build. Thanks to the user Kickin It we offer you the build called "Bonemancer" which gives you a powerful combo of bone skills with high magical damage and considerable defensive power. The Bonemancer of Diablo II: Resurrected summons from afar almost never entering melee range but does not rely on the large number of minions: the Bonemancer delegates the damage to magic to curses and the Mercenary. As such, this build is fully capable of taking on hell solo.
Unlike most Necromancer builds, this one takes a bit of dedication to complete, but thankfully it's usable at low damage right out of the box.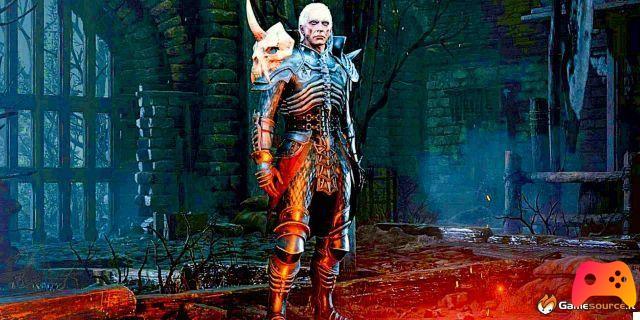 Force: Enough to use your equipment. It is necessary to use Enigma magic armor to be maximized.
Dexterity: The basic level is enough, which can be increased according to the degree of difficulty.
Vitality: Raise the level to the maximum possible.
Energy law : The basic level is enough
Clay golem: 1 point.
Maestria Golem: 1 point.
Resistance to summoning: 1 point. Your Golem will be more resistant to elemental damage.

Denti: 20 points. Just to do damage.
Bone armor: 1 point. Always keep active.
Corpse explosion: 1 point. Although it is the fulcrum of the damage, there is no need to spend other points, in fact the increase only affects the radius.
Wall of bones: 20 points. Used as a defense and collaborates with Bone Armor.
Bone spear: 20 points. The main attack.
Bone prison: 20 points. See Wall of Bones.
Bone spirit: 20 points. It serves to do a lot more damage than the Bone Lance but also costs a lot more in terms of mana. To be used against bosses or the most difficult enemies.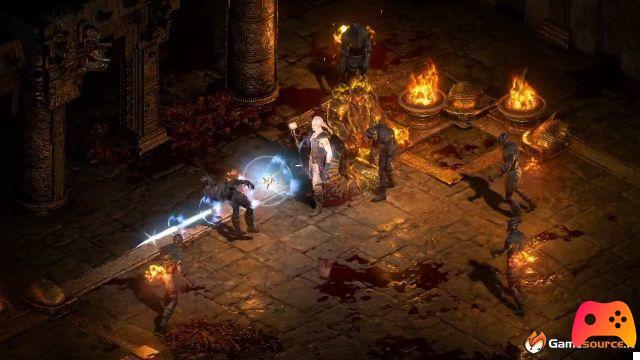 Amplify the damage: 1 point. Increases the damage of Corpse Blast and the damage of the mercenary.
Dim vision: 1 point. To have absolutely since if you do not return within the range of action of the enemies they are rendered practically inert. Watch out for the low skill levels provided by the equipment as the range is limited.
Iron Maiden: 1 point. Useful against bosses.
To confuse: 1 point. Enemies attack each other.
Touch of Life: 0-1 Point. It serves to keep the mercenary alive.
Use the mercenary offered by Act 2 and choose one with a freezing aura. In synergy with the skills used it becomes the fulcrum of the entire build.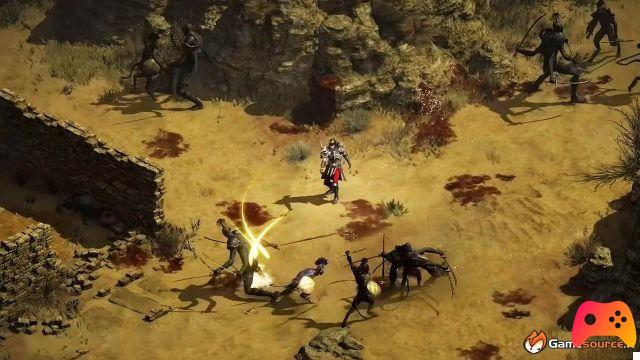 Head: harlequin crest or a rare circle with +2 necromancer skills.
Amulet: Mara's kaleidoscope.
Weapon: Heart of the Oak or White: alternatively, prefer weapons that increase the equipped skills.
Armor: Enigma Provides teleportation and increases the range of your abilities. Eye that varies its values ​​based on the "strength" attribute.
Shield: Homunculus, Boneflame o Spirit Monarch.
Gloves: Trang-Oul's claws provide a boost to curses and resistances.
Rings: 2 Jordan stones. They are a great combination, even if they are expensive.
Waist: Arachnid shirt.
Boots: Sandstorm Trek. Great poison resistance and vitality bonus.
Amulets: Annihilus e Torcia Hellfire.
This concludes the Diablo II: Resurrected Necromancer Guide; We thank the gamers' years of experience for the information and we recommend that you read our review.
► Diablo II: Resurrected is an RPG-type scrolling-Adventure game developed and published by Blizzard Entertainment for PC, PlayStation 4, Xbox One, Nintendo Switch, PlayStation 5 and Xbox Series X, the video game was released on 23/09/2021
Diablo II: Resurrected is a beautiful game that cannot be missing from your collection: we have decided to evaluate it with a 80%, if you are interested in learning more you can read the Diablo II: Resurrected Review by Steven Carollo.