Skyrim has become in the years the history of video games, becoming a must on any platform, be it console or PC. And now you can also play it on your mobile, because after a long wait, Skyrim is on Android.
Obviously this is not one native version of the game, but of version intended for consoles which can be performed on our mobile phones thanks to Microsoft Cloud Gaming and Xbox Game Pass.
If you have never played The Elder Scrolls V Skyrim before, or have played it before but want to enjoy the experience of this fantastic RPG again, in this guide we will explain you step by step how you can play it on your mobile.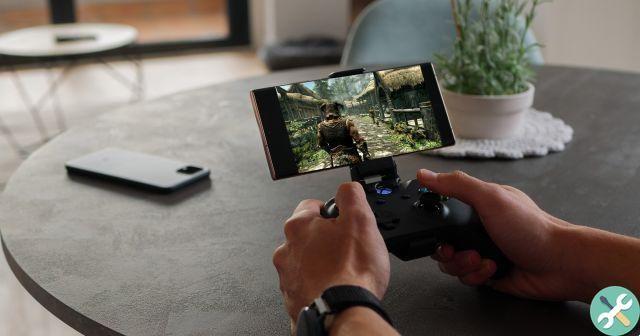 You can play Skyrim on your Android mobile.
1. Abbonati a Xbox Game Pass Ultimate
In order to play Microsoft cloud gaming titles on mobile, you must first have a game subscription Final step active.
This subscription gives you access to several benefits offered by Microsoft and Xbox, including the ability to run games directly from your android phone.
If you are already registered, you can skip this step. Otherwise, you should go to the pagina Xbox Game Pass and tap "Join Game Pass Ultimate".
Once inside, choose the Game Pass Ultimate plan and sign up by entering your details and Microsoft email account. It is worth mentioning that even today è in effect the promotion that allows you to try three months of Game Pass Ultimate for only 1 euro. Subsequently, the fee will become 12,99 euros per month.
2. Download the Xbox Game Pass (Beta) app to your Android phone
Once you have an active Game Pass Ultimate membership, it's time to prepare the ground to start playing.
To do this, the next thing you should do is scaricare l'app Xbox Game Pass (Beta) on your mobile. This app is free and available in the Google Play Store.
After installing it, all you need to do is sign in with your Microsoft account associated with the Game Pass Ultimate subscription.
3. Find the game, plug in a controller and enjoy Skyrim
Xbox Game Pass (Beta) will be the application you will use for giocare a The Elder Scrolls V Skyrim on your Android phone.
Therefore, once inside you have to access the games catalog, and look for the title. You can do this via the search engine above, typing «Skyrim». This will appear in the first position, with an icon indicating the possibility of play it for free on mobile.
To do this, of course, it will be necessary have a remote control connected to the device. It can be an official Xbox controller or another Android compatible controller that you already have previously.
Finally, tap "Play" and wait for the game to load. The game will start automatically and you can enjoy the Skyrim experience from the comfort of your mobile, anytime, anywhere, as long as you have an internet connection, of course.