Let's see the complete trophy list of Tennis World Tour 2, the title just landed on the PlayStation Plus.
This month Sony has released a title dedicated to racquet lovers on the PlayStation Plus, and we imagine that the most avid fans want to try to recover every trophy available in Tennis World Tour 2. These are in total 31, of which 16 bronze, 8 silver, 6 gold and of course the platinum trophy.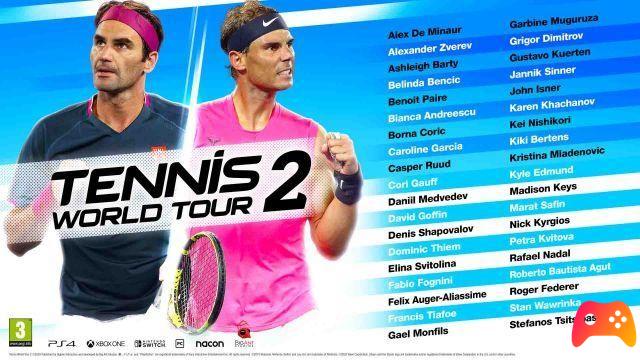 BRONZE TROPHIES
Game over: Complete a match;
At slow motion: Use the replay system;
Nice purchase: Purchase your first item of equipment;
Shot: Perform 15 winning strokes in one set;
Skill pays: Open your first skill card booster pack;
Fifty!: Complete 5 objectives;
Double the fun: Complete a doubles match;
A star was born!: Create a new player and use him in Career mode;
May the force be with you: Make your opponent make more than 20 unforced errors in a match;
Off the net: Do not send any service to the network for an entire match;
Triumphal Network: Win an online match;
Red card!: Activate a trading skill card in progress and win the point;
All-round: Win a match on any type of surface;
Do you want to dance?: Win 25 points with volleys in a single match;
Exhibitionist: Win an exhibition match in Career mode;
Pentaset: Win a 5 set match.
SILVER TROPHIES

Meticulous: Win 200 points as a female tennis player;
Racket Man: Successfully defend 25 break points as a male tennis player;
Hunting for stars: Win a 5-star tournament in Career mode;
Play your cards right: Build a collection of over 100 skill cards;
It's all my stuff!: Purchase all equipment;
You're almost there: Enter the top 100 in Career mode;
School's out: Achieve 100% progress in the Tennis Academy;
Promotion: Get promoted in online leagues.
GOLD TROPHIES

From stable to five stars: Win all 5-star tournaments in a single year in Career mode;
Millionaire: Earn a total of 50.000 coins in Career mode;
I am the greatest: Become the no. 1 in the world in Career mode;
Circumnavigatore: Travel 40.075 km or 24.901 miles in Career mode;
I'm going to the max: Achieve the highest overall skill value for your player in Career mode;
Tournament guru: Win a custom tournament on maximum difficulty.
PLATINUM TROPHIES

Trophetist: Collect all Tennis World Tour 2 trophies.
As you can see one most of the Tennis World Tour 2 trophies can be obtained simply by playing and continuing in the various modes, while others will need more attention and specific actions during matches. We hope you find this guide useful and wish you good (platinum) hunting.
► Tennis World Tour 2 is a Simulation-Sport game developed and published by Nacon for PC, PlayStation 4, Xbox One and Nintendo Switch, the video game was released on 22/09/2020 The version for PC came out on 24/09/2020 The version for Nintendo Switch came out on 03/11/2020