Endless runner games, or endless races, are where you have to control a character as he advances through an infinite path where the obstacles are more and more complicated. It will be the mobile game Crash Bandicoot, which will soon arrive on Android with a style similar to that of the Temple Run saga.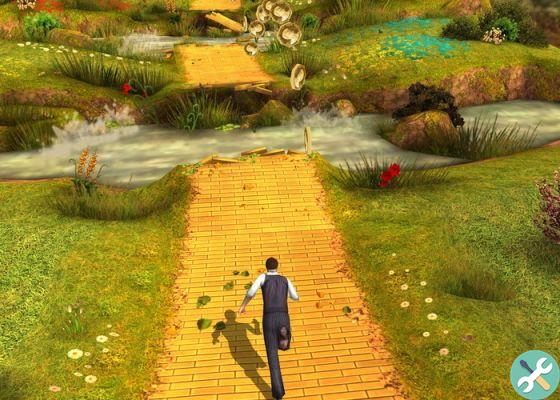 Since the release date of this adaptation of the mythical Crash Bandicoot is still unknown, you can spend the waiting time enjoying endless other racing games. Attention, because we have selected for you the 11 best endless runner games you can play with your android in so that you can take control and be the best overcoming obstacles in endless races.
Subway surfers
We couldn't start this list without mentioning the flagship of endless racing games: Subway Surfers, the first game to hit 1 billion downloads on Google Play. This milestone is understood when you try this highly addicting game, which you'll just want to play and play for beat your own records while controlling the characters Jake, Tricky and Fresh.
In Subway Surfers you have to slide your finger on the screen to move the protagonist along the docks and thus avoiding the arrival of high-speed trains. You have to be especially careful when doing this, as the inspector and his dog are aware of your mistakes in order to catch you and end your game.
temple run 2
Other classic endless runners for Android are the games of the Temple Run saga, of which we point out its second title. With over 500 million downloads on Google Play, this game maintains almost the same operation as its predecessor, but incorporate new obstacles such as waterfalls, jets of fire or hidden mines.
In short, we must continue to control the character to advance in the temple without dying, but by overcoming these new obstacles. If he fails, in this Temple Run 2 you can use the green gems to save his life and continue the game. Your enemy? A great ape whose only goal is to capture you.
sonic hyphen
SEGA has already released several racing games about its best known character Sonic, such as Sonic 4: Episode II. However, for this list we have selected the first of them, Sonic Dash, where you have to manage the blue hedgehog to overcome tricky obstacles taking advantage of the impossible jumps or loops in which you have to go at maximum speed.
If you don't want to play with Sonic, you can also play with other characters like Shadow or Knuckles. After you have overcome all the obstacles in the race, you will have to face one final battle against the villains of the Sonic universe: the Dr. Eggman e Zazz.
Edge blades
The creators of Subway Surfers, the SYBO Games studio, have once again demonstrated their great ability to make endless runner games with Blades of Brim, where you have to control the heroes of Brim to take down the invading army of thugs. As you progress through the different scenarios, you will find yourself face to face with those enemies, which you will have to defeat with the weapons you have at your disposal.
As you can see in the "game" above, while dealing with bullies, you must also collect coins and other items that will help you in the future. As usual in this type of game, the further you advance, the more complicated the obstacles you will encounter.
Minion Rush: Gru - Despicable Me
The minions, the cute characters from Despicable Me, have arrived on mobile phones all over the planet in this addicting endless racing game. As you can imagine, your mission is move the minion to the stage avoiding all obstacles that appear along the way, a mission you can help yourself with by jumping and sliding on the ground.
The game has a wide variety of rooms, missions, characters, costumes and obstacles to add fun to the races. More than 900 million players have already put themselves in the shoes of these Giallorossi, what are you waiting for?
Adventure time races
Enter the universe of the Adventure Time series with this free endless racing game on Google Play. Finn, Jake, Princess Bubblegum and Marceline are some of the characters available in the game. Choose one and start racing through different scenarios, like Kingdom of sweets or Kingdom of ice.
As in other endless runner games, you can also jump and move the character across the screen as you overcome obstacles along the way. Also, you need to worry about collect all the treasures you find.
Alto's adventure
One of the titles that you must try yes or yes if you are a fan of endless racing games is Alto's Adventure (and in general the whole Alto saga). The graphics of this game stand out for their beauty and its ability to lend a special atmosphere to each of the mountain-rich scenery.
In addition to the beautiful graphics, Alto's Adventure also has an interesting mission for you: you must control Alto while snowboarding through steep mountains and hills where staying on the board is particularly difficult.
Sky Dancer: Parkour
Parkour also has a place among the endless running games with this Sky Dancer: Parkour, in which you will have to advance through endless rocks and abysses by jumping without stopping. Jumps won't have any difficulty at first, but the more you advance, the more you'll have to prove your skill in this parkour.
Cross road
One of the most special games on the list is this Crossy Road, where danger lies when crossing streets and roads full of cars, trees, benches and other obstacles characteristic of those scenarios. In this game for the whole family, you have to take care of the animal that wants to cross the road by skillfully moving it between all the elements that appear on the screen.
It's a simple game that you can also play with your friends or family only with your Android mobile or tablet thanks to the multiplayer mode. Start the game and switch the device among all the participants to see who gets the highest score in Crossy Road.
In death
Endless racing games don't have to be light-hearted or colorful, and this Into the Dead is proof of that. Your character is the only one alive in a zombie apocalypse where he has to face a horde of dead who want to kill him. To survive, you must move fast and protect yourself from the attacks of your enemies.
In addition to the well done graphics, Into the Dead manages to enter this world with terrifying sounds. On the other hand, if you think you're the best at running in a zombie world, you can compete against your friends to see who is the one with the best score.
Rodeo Race: Sky Zoo Safari
Let's finish this list of 11 best endless runner games for your Android with Rodeo Stampede: Sky Zoo Safari, developed by Yodo1 Games. Your character will start the game riding a horse, but will have to keep going keep going while riding wild animals that he meets along the way.
Staying alive in the game will not be easy, as they will appear escapes of buffaloes, elephants and other animals which will make it nearly impossible. In addition, the scenarios also present other obstacles that you need to avoid while riding all kinds of animals.
We recommend: 43 best free android games to play in 2020