The remastered version of Alan Wake appears to be online in a Taiwanese store complete with a release date.
Following an appearance at a Taiwanese online store, Alan Wake looks like that is about to return shortly with a remastered version for PlayStation 5, Xbox One and PC.
It is not the first time that we talk about the remastered of Alan Wake, the title in fact has remained an exclusive Xbox and PC today and never landed on Sony home consoles. After the great success of Control, Remedy has expanded the narrative universe that includes the damned writer with a real definition: the Remedy Connected Universe.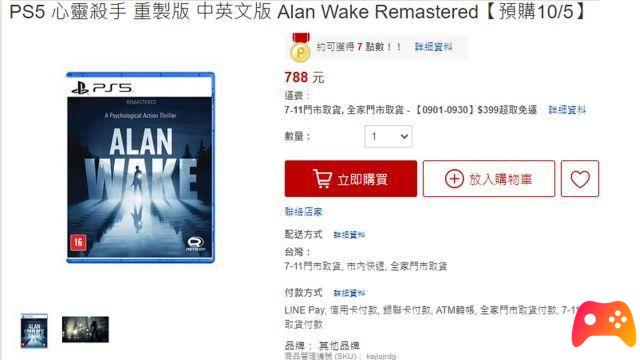 What better way than to allow players to discover or relive Alan Wake's adventure under an improved guise in view, who knows, of his new adventure that could arrive in the coming years. From the store it is possible to note that two distinct versions are available for PlayStation 4 and PlayStation 5, it is therefore expected an ad-hoc version with more important graphic improvements and support for DualSense that Remedy has been able to integrate optimally with Control Ultimate Edition.
The announcement of Alan Wake Remastered could take place during the PlayStation Showcase on September 9th.
► Alan Wake is a Shooter-Adventure type game published by Microsoft Studios Legacy Interactive for PC and Xbox 360, the video game was released on 14/05/2010 The version for PC came out on 16/02/2012