All crazy about GTA V.
The various hearings of the colossal lawsuit between Apple and Epic continue to reveal interesting information on the world of gaming and technology.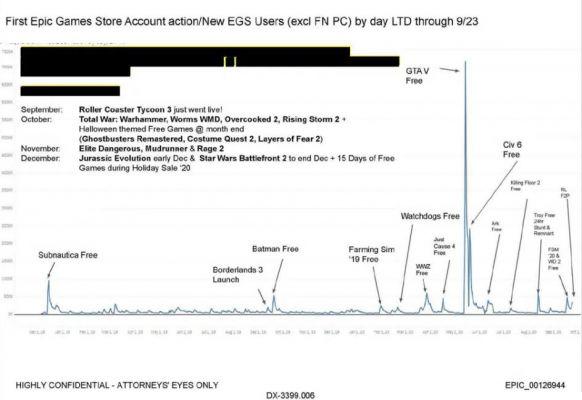 This time it was the turn of a document that showed the number of new users created on the Epic Games Store in conjunction with the video games given for free, a document that further confirmed how much, even on this occasion, GTA V has again ground mind-boggling numbers.
The week during which the Rockstar Games best seller was made free, Over 7 million new accounts have been created on the Epic Games Store. The flow of users was so high that the store collapsed several times, despite the fact that GTA V had already been available for years and had already sold approximately 145 million copies at the time.
In short, despite the 8 years on the rump, public interest in GTA V shows no sign of diminishing.
► Grand Theft Auto V is an Adventure-Action game developed and published by Rockstar Games for PC, PlayStation 3, PlayStation 4, Xbox 360 and Xbox One, the video game was released on 17/09/2013 The version for PC came out on 14/04/2015 The version for PlayStation 4 came out on 18/11/2014 The version for Xbox One came out on 18/11/2014
Grand Theft Auto V is not a game worth buying - we decided to rate it with a %, if you are interested in learning more you can read the Grand Theft Auto V Review