The new season of NBA 2K21 promises to be really rich in content. The eighth season of the 2K title will give players tons of NBA Finals themed rewards.
In the last few hours 2K and Visual Concepts have launched on the game servers of NBA 2K21 the new season of what is slowly becoming the fulcrum of the gaming experience: the MyTeam.
As happened slowly - but inexorably - with FIFA and its Ultimate Team, the online mode that bases many of its fortunes on microtransactions has garnered more and more support, to become one of the most loved gaming activities by players. And, in confirmation of that, net of a real NBA season slowly starting at the end the company has released a new season for the MyTeam, a season clearly Finals themed which takes the name of Trials of Champions.
The new season will give players six special cards starting from level 1, cards that can be used freely and which are dedicated to some of the protagonists of the NBA of the present and the future, in an "enhanced" guise and with an overall (90) and above average statistics. These cards cover things like Jayson Tatus, Donovan Mitchell, Damian Lillard, Anthony Davies, Zion Williamson and Ben Simmons. Clearly, these cards are only the prelude to a season of MyTeam that promises to be bombastic.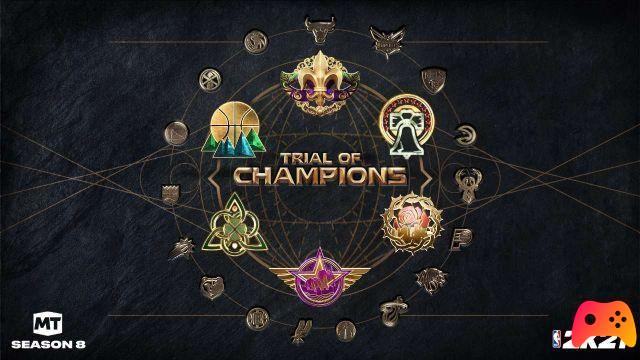 By completing the "tests" that the game will put in front of the players it will be possible to unlock great rewards, among which the rewards
Dark matter
, involving some of the strongest players in NBA 2K21 in one of the most powerful versions available on the market. Also included in the list of unlockable players this season
Moses Malone in the Invicible version
and a special version of
Trae Young,
one of the strongest and most decisive players in the current NBA.
The top tier reward closes the picture. By reaching 40 it will be possible to put your hand on "Champions" version by Luka Doncic, what today is perhaps the strongest and most decisive player in the American league.
In short: there are really many things to do. And what do you think of this new season? Are you still playing NBA 2k21? Let's talk about it together!
► NBA 2K21 is a Simulation-Sports game developed by Visual Concepts and published by 2K Games for PC, PlayStation 4, Xbox One, Nintendo Switch, PlayStation 5, Xbox Series X and Google Stadia, the video game was released on 04/09/2020
Version for PlayStation 5 from 12/11/2020
Version for Xbox Series X from 10/11/2020
NBA 2K21 is a great game that we recommend - we decided to rate it with a 75%, if you are interested in learning more you can read the NBA 2K21 Review