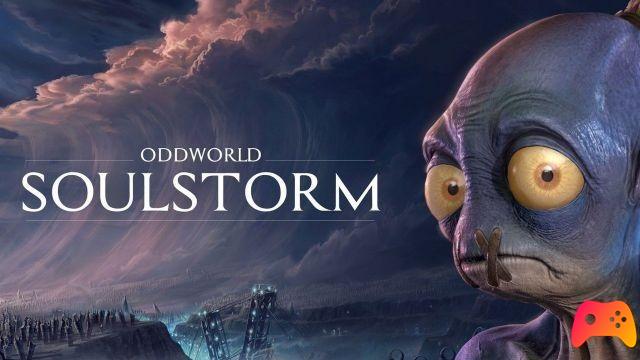 In detail, Oddworld: Soulstorm update 1.08
It was made available today Oddworld: Soulstorm update 1.08 came out PlayStation 5, PlayStation 4 e PC. The update brings with it some innovations such as the deactivation of the graphical interface and that of notifications but also brings with it a series of corrections that lead to improving the gaming experience. Let's see the update in detail.
Accented characters in the user interface removed;
Accented characters in the user interface removed;
Fix Abe passing through platforms after crouching after a double jump;
Multiple fixes for out-of-this-world jumps;
Corrections to the badge count;
PlayStation trophy fixes;
Timer corrections see Streamer mode;
Fixed missing bird portal in Sorrow Valley;
Rocksaw audio fix in Necrum;
Fixed lockers in The Ruins;
Fixed motion detectors in Necrum;
Sligs no longer float in certain states;
Sligs now react better to mortars;
Sligs in the distance now react correctly after their pistol overheats;
Sligs chasing Abe when he enters a crawl space show no anomalies;
Sligs now move towards ailments when they hear them;
Sligs no longer get stuck in a state of inactivity;
Improvements to the Spanish and German localization;
Improvements to monkeybar edge detection;
Potential progression blocks solved in Brewery and Slig Barracks;
Sorrow Valley Flying Slig explosions fixed;
Sanctum respawn issues fixed;
Fixed the issue where the train was not present at the end of the Phat station;
Fixed the problem with closing the lattice door;
Fixed Abe getting stuck;
Fixed post-processing effects stuck on singing;
Softlock problem solved - empty interactions;
Fixed an issue where the airship was visible in the level of the same name;
Fixed an issue where Abe got stuck during a fall;
Additional fixes for when Sligs stun sick Mudokons
Additional fix for incorrect Mudokon count in The Ruins;
The update of Oddworld: Soulstorm it is available on console and PC; on our pages found our review.
► Oddworld: Soulstorm is an Adventure-Action-type game developed and published by Oddworld Inhabitants for PC, PlayStation 4, Xbox One and PlayStation 5, the video game was released on 31/12/2020