Id Software celebrates the twenty-fifth anniversary of the release of the first game.
There has been a lot of talk about it lately and finally, during the QuakeCon just ended, Id Software has announced the return of the famous 90's FPS saga: Quake.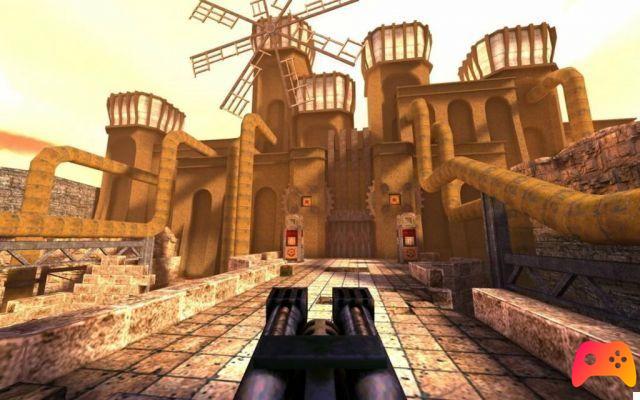 The first bloody chapter is available right now on PC, PlayStation, Xbox and Nintendo Switch in an enhanced edition that adds 4K resolution, widescreen support, dynamic lighting, anti-aliasing and other graphic improvements.
Support for 4K / 120fps for the new consoles will be added soon, in the meantime it is possible to play the new version of Quake on PlayStation 5 and Xbox Series X | S in backwards compatibility mode.
But not all. The package also includes the two expansions of the original Quake, plus two more developed for the occasion by MachineGames.
Even the most competitive players will find their match: in fact, both online and local split-screen multiplayer has also been introduced, to fragment as if they were the 90s.
Last but not least, the game fully supports mods, to the delight of the most geeky players.
The title is already available at a price of 9,99 euros, but players who already own the original game will get the enhanced edition for free.
In short, id Software and Bethesda have really found a great way to celebrate the XNUMXth anniversary of the release of the first, unforgotten Quake.
► Quake is an FPS-type game developed by Id Software and published by Bethesda for Nintendo 64, PC, Mac, Amiga, Sega Saturn, Linux, PlayStation 4, PlayStation 5, Xbox One, Xbox One X and Nintendo Switch, the video game is released on 22/06/1996 The version for Nintendo Switch came out on 19/08/2021 The version for PlayStation 4 came out on 19/08/2021 The version for Xbox One came out on 19/08/2021
Quake is a beautiful game that cannot be missing from your collection: we have decided to evaluate it with a 91%, if you are interested in learning more you can read the Quake Review