Square Enix wanted to take advantage of the 25th anniversary of the tomb raider to show new videos and details on what it should have been Tomb Raider: Ascension, survival horror title dedicated to the archaeologist Lara Croft later canceled.
In the first clip, published on YouTube by the company itself, it is possible to see some concept art regarding the setting within the title, together with some sketches dedicated to the design of the characters. Accompanying the images in the video was also the description of the video, in which Square Enix stated how Crystal Dynamics realized, during development, how much Ascension was moving away from the titles of the franchise, to instead approach a real horror.
To confirm this trend was the next video, designed to present some of the hypothetical game sequences. The latter in fact showed the beloved protagonist intent on making his way through dark and poorly lit areas, facing dangerous monsters and then arriving at an intense moonlight battle with a boss.
Last, but not least, is the third video published by Square Enix on the platform, in which the company wanted to show the initial concepts for the logo of Tomb Raider: Ascension and a number of potential designs for his box art. The latter also allows us to understand how the narrative component of the game was also influenced by a horror trend, especially as regards the figure of Lara herself. From the words that the protagonist pronounces in the film, in fact, one can only perceive a much darker and less invincible heroine atmosphere: the archaeologist remembers her human being, her suffering, feeling pain and, above all, fear.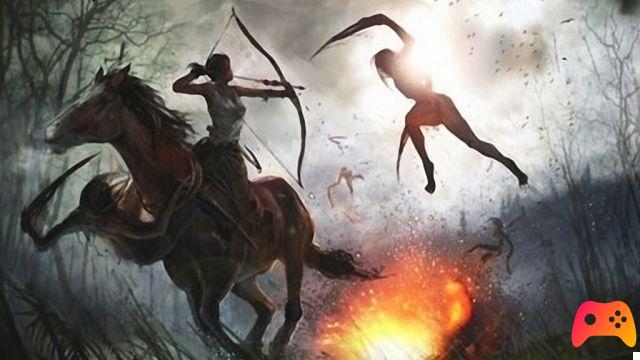 All the previously reported details have therefore pushed Square Enix e Crystal Dynamics a rivalutare Tomb Raider: Ascension, to then keep some elements and bring them back into the popular 2013 remake.
Despite the interest aroused by the particularity of a similar title, unfortunately, the two companies do not currently seem willing to resume the project.
Source
► Shadow of the Tomb Raider is an Action-Adventure game developed by Eidos Montréal and published by Square Enix for PC, PlayStation 4 and Xbox One, the video game was released on 14/09/2018
Shadow of the Tomb Raider is a beautiful game that cannot be missing from your collection: we have decided to evaluate it with a 90%, if you are interested in learning more you can read the Shadow of the Tomb Raider Review by Matteo Scannavini.