Behold the fury of Skarbrand
Sega and Creative Assembly have released a new trailer for Total War: Warhammer III focusing on Khorne, the largest realm in the Kingdom of Chaos, the god of battle, the god of blood, the Spiccateschi.
Once Skarbrand he was the greatest of the Demons of Khorne. Ruined by his pride, he was banished from the service of the blood god and expelled from the Realm of Chaos. Perpetually tormented by his fall, he wanders the mortal and immortal realms, furious, restless and unstoppable.
Skarbrand is the best hand-to-hand fighter to ever set foot on the battlefields of Total War: Warhammer III and possesses many unique abilities that contribute to his mastery in battle. His twin axes, Slaughter and Carnage, increase the amount of damage he inflicts with each kill, while Scream of Eternal Anger allows him to unleash a devastating fire-breathing attack. Additionally, he has a passive ability that allows him to inflict Fury on weaker enemies, rendering them unable to escape the looming slaughter.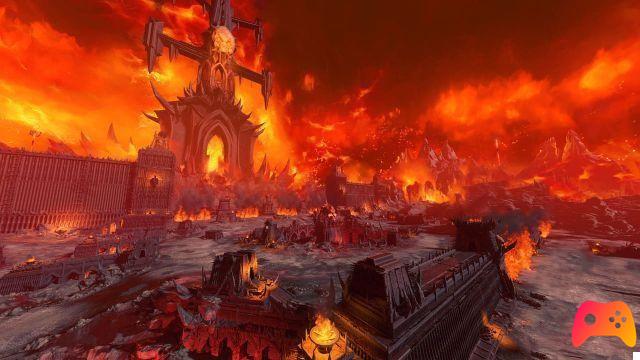 The demons of Khorne, incarnations of their patron god, they are strong and brutal creatures who never miss an opportunity to shed blood. They detest the use of magic and advance rapidly to reach the enemy ranks with devastating impact, before unleashing their deadly skills in hand-to-hand combat. The longer these bloodthirsty warriors stay in the heat of the fight, the more skilled they become in combat by unlocking battle bonuses.