The creative showed great enthusiasm after the first few hours of play, finding inspiration for the creation of a new adventure game.
Available a few days ago, also on Xbox Game Pass, Twelve Minutes is the new title published by Annapurna Interactive and developed by Luís António and which is receiving several positive opinions in the videogame environment, even from Hideo Kojima.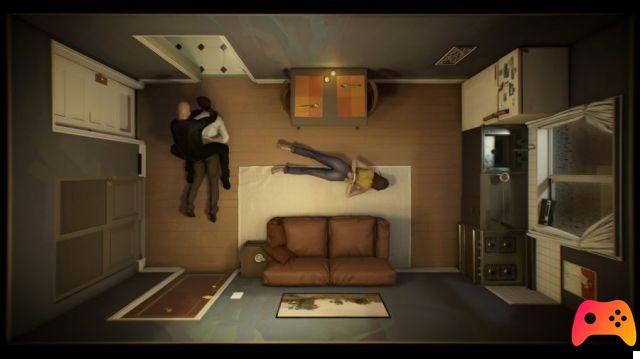 The creative, in addition to working on Death Stranding Director's Cut, usually devours films but also video games as shown by the different tweets released through his official profile in English:
Once you get used to the overhead view and the controls, you won't mind. It's a game using intelligence. It's like the Amiga games I used to play.
I still haven't cleared it yet, but it's fun. I'm afraid of Dafoe's visit! (2/2)
- HIDEO_KOJIMA (@HIDEO_KOJIMA_EN) August 20, 2021
Surely the author of Twelve Minutes can only appreciate the praise of a colleague in the sector, especially if it bears the name of Hideo Kojima. The leader of Kojima Productions indicated that he had played for 4 hours straight without realizing the passage of time (very important factor in this small but interesting title) and not having found himself so involved in a game since INSIDE.
Kinda make me want to create another adventure game.
- HIDEO_KOJIMA (@HIDEO_KOJIMA_EN) August 20, 2021
The most interesting note of the story, however, turns out to be a sort of inspiration that Twelve Minutes gave to Kojima, culminating in making his desire to create a new adventure game.
"TWELVE MINUTES". To me, it looks like Director DARPA is in this bathroom. It's like he's looking down from a duct.? pic.twitter.com/t6QrgpwbVA
- HIDEO_KOJIMA (@HIDEO_KOJIMA_EN) August 22, 2021
Finally Kojima managed to find a déjà vu with his historic title Metal Gear Solid, in fact the protagonist of Twelve Minutes reminded the creative of the director of DARPA. In short, it cannot be said that Twelve Minutes has gone unnoticed or left Kojima indifferent, a very interesting business card for the title Annapurna Interactive.
Twelve Minutes is available on Xbox and PC consoles, included in the Xbox Game Pass, and features an exceptional dubbing cast with actors James McAvoy, Daisy Ridley and the legendary Willem Dafoe. The protagonist of the title is a man trapped in a time loop, lasting 12 minutes, inside his apartment and manages to enchant with a simple but, at the same time, elaborate gameplay. There are also several twists thanks to a script that is not at all obvious.
► 12 Minutes is a Point & Click-Puzzle-Adventure-indie game for PC, Xbox One and Xbox Series X, the video game was released on 19/08/2021