On the occasion of the 31th anniversary of the Sonic franchise, Two Point Hospital is updated with new themed content.
Two Point Hospital takes part in the celebrations for Sega's blue hedgehog, that blows out its thirty candles. On the occasion of the thirtieth anniversary of Sonic the Hedgehog, the hospital management system of Two Point Studios is enriched with new contents.
Two Point Hospital has always been an out of line style, the game has never been lacking in surreal and delusional elements, aimed at comedy, but now he has managed to come up with something that was not even expected of him. In fact, these days the management software has been updated with the introduction of a thematic DLC based on Sega's mascot, Sonic the hedgehog.
Through the acquisition of this downloadable pack it will be possible to introduce in the game numerous contents based on the fastest animal in the history of gaming, including costumes for the staff hospital (in the image of Sonic, Knuckles, Amy Rose and Tails) and decorative objects. "It's a dream come true for us to be able to bring the joy of Sonic's world into our universe," says Gary Carr, Studio Director of Two Point.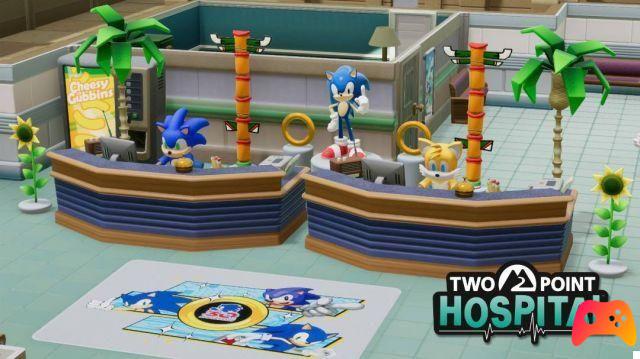 Two Point Hospital is currently available as a free trial on Steam until 2 August, on Nintendo eShop until 3 e su Xbox Live tramite Gold Free Play Days up to the 1st. Furthermore, on all three platforms there will be substantial discounts both on the purchase of the base game and on that of the new DLC.
► Two Point Hospital is a Simulation game published by Sega for PC, PlayStation 4 and Xbox One, the video game was released on 30/09/2018 The version for PlayStation 4 came out on 25/02/2020 The version for Xbox One came out on 25/02/2020
Two Point Hospital is a beautiful game that cannot be missing from your collection: we have decided to evaluate it with a 80%, if you are interested in learning more you can read the Two Point Hospital Review