If you regularly use Instagram, you've probably seen your friends' stories appear. This feature isn't entirely new as it was borrowed from Snapchat. Its goal: to change the way Internet users publish, to make posts / publications more frequent and spontaneous.
What is an Instagram Story?
Instagram Stories are ephemeral posts / publications that only last 24 hours. Launched in July 2016 by the image giant (owned by Facebook), they aim to encourage internet users to post more spontaneously.
These stories are a great success because, in 2017, there are more than 200 million active users! This feature dethroned Snapchat, the original! Stories are at the top of your newsfeed as shown here: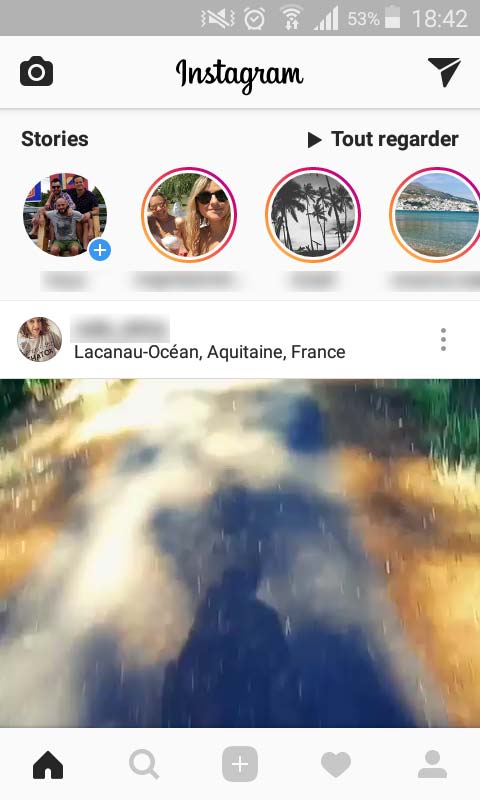 Instagram Stories can consist of photos or videos in the style of a carousel:
The peculiarities of an Instagram story
Your story is missing from your profile or newsfeed. As mentioned above, they are only present at the top of the home screen, simple no!
Privacy
Instagram Stories follow the same rules as privacy settings: if you set them to public, they will be visible to everyone.
A parameter lets you know who has seen your story: you can do your check quantitatively (how many people) and qualitatively (which people).
This feature is very useful for an individual, but its usefulness is limited for a professional who advertises on Instagram: it is of little interest to know by name each person who has seen his story.
Reactions
The reactions? No public reaction to the stories! Another reason to post what's on your mind. The only possible reactions are private: he will use Direct, the Instagram post.
How to post a story on Instagram?
If you want to get started, here's how to proceed in just a few steps. As usual on the social network, it's simple.
Click on the + at the top left.
Take a photo or video (for video, leave it pressed) up to 10 seconds.
Or insert a photo from your phone, with a swipe up.
Make a small decoration:

Write a text
Draw
Add a filter
Add emojis

Send!
However, if you want to take a story and post it like a traditional post, you can. Click on the 3 small dots at the bottom left of the story and select "Share a post".
How to create a good Instagram story
Since our tutorials are always complete, here you will find some good tips to make a story that is pleasant, engaging, effective ... In short, a story that you watch:
Highlight the mood: embrace the emotion of the moment, the destination!
The show: the unusual has always been something viral, surprise!
The artistic: beautiful photos make your story pleasant and viral!
Dynamic: Photo or photo + video success is a good way to make your story come alive!
And above all, the common thread: a story is a story (not a joke). Tell a series of pictures that follow a discussion!
And now, you have the foundation to get into the stories. The next step, advertise with Instagram Stories! Did you like this article? It will probably help other people, share it!
How to archive posts on Instagram (without deleting them)
Further Reading:
How to put multiple photos in an Instagram story
How to put a GIF in your Instagram story
How to see who saved your Instagram posts
How to use the Instagram Questions sticker
How to Take a Screenshot or Record an Instagram Story