Electronic Arts has made two more Icons available via SBC for its FIFA 21. These are Eto'o and Matthaus, in Moments version.
Good news for the more daring who, net of the period, continue to play undaunted at FIFA 21 and Ultimate Team.
After the arrival of the new event dedicated to Summer Stars, Electronic Arts has launched many other SBCs into the fray, including those of last night relating to two new Icon. Starting yesterday 4th of July and for the next 77 days, players will be able to unlock one of (or maybe both) through the Squad Creation Challenge Lothar Matthaus o Samuel Eto'o, in Prime version Moments (the best). These are two players, with a relatively high market price and certainly with a sure value in game. Furthermore, to secure the two players, there will be no need to pass out too much. EA has in fact "priced" the SBCs on 700k, with respectively 7 and 8 challenges needed to unlock the two players.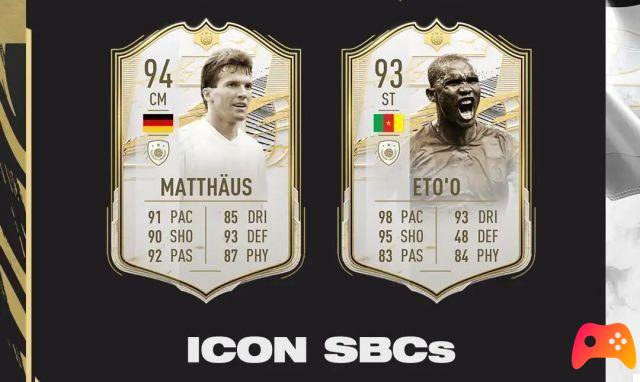 If you are looking for a midfielder or in any case a solid midfielder, Matthaus will certainly be for you, while if you need a tip you could give Eto'o a thought, simply devastating in acceleration and lethal in front of goal. In short: in both cases, these are very solid challenges. What do you think of it? Let's talk about it together in the comments section!
► FIFA 21 is a Sport-type game developed by Electronic Arts and published by EA Sports for Xbox One, PlayStation 5, Xbox Series X, PlayStation 4 and PC, the video game was released on 09/10/2020
Version for PlayStation 5 from 03/12/2020
Version for Xbox Series X from 03/12/2020
FIFA 21 is a beautiful game that cannot be missing from your collection: we have decided to evaluate it with a 80%, if you are interested in learning more you can read the FIFA 21 Review