Scalpers all'opera.
On the occasion of the opening of Steam Deck pre-orders, Valve has set up a whole series of limitations to stem as much as possible the danger of touting that is afflicting the new generation consoles.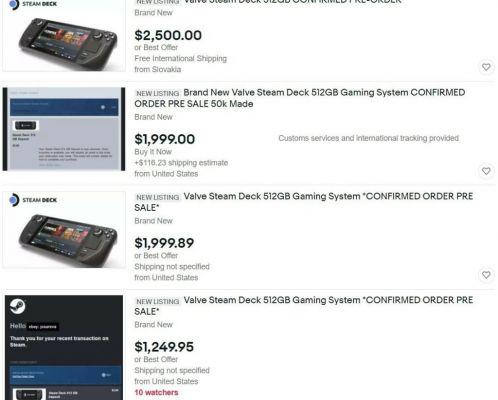 While these restrictions seem to be working well, little can be done with regard to scalpers. In fact, several preoder resale advertisements have appeared on eBay, some of which amount to around 2.000 - 2.500 dollars..
We hope eBay can act promptly to close these listings and that, at the same time, Valve has organized the entire Steam Deck production cycle to avoid the shortage of consoles that still plagues PlayStation 5 and Xbox Series X.
The fact that pre-orders are still active bodes well that the quantities of Steam Deck will be able to satisfy the demand, and that at least for the Valve console we will be able to avoid seeing shameful videos of people with warehouses full of machines ready to be resold at higher prices.
Certainly, if Valve has played its cards well at the production level, Steam Deck could become a great alternative for anyone left without a next-generation console.