The gigantic FIFA 21 themed international tournament will officially take place from August 20-22 in Denmark.
La football season, the real one, is slowly coming to an end. That of FIFA 21, on the other hand, proceeds quickly. With the arrival of new events, including the highly anticipated TOTS, the attention of fans on the game continues to skyrocket.
And, at the very peak of a rich and never tame season, this year there will be the great return of the eNations Cup, officially announced by Electronic Arts and the bodies concerned. The largest world football competition of EA, a real FIFA 21 "World", will be held from next August 20, until 22, in a two-day event that is literally expected to be on fire. The competition will be hosted by Denmark, in which the sixty national teams present (made up of three players each) will face each other to enter the final phase, which will include the best 24 teams.
The qualifications to establish the 24 finalists will take place from 22 April at 23 May, with the various teams divided by geographical areas (Asia and Oceania, Middle East and Africa, Europe, South America, North America and Central America).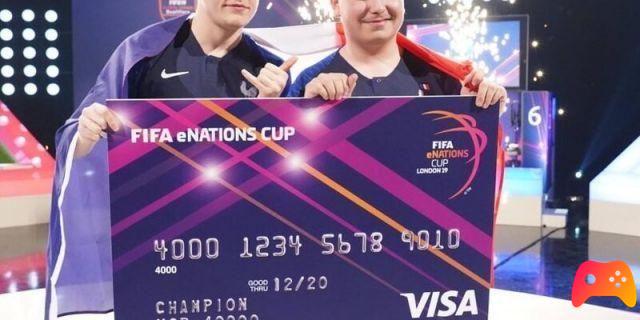 The last edition, held in the United Kingdom, saw the triumph of the
French national team
, who took home the trophy and a cash prize of $ 40.000. Second place for
Argentina
, while on the last step of the podium they finished the
Portugal and Denmark,
the host country of the annual edition.
► FIFA 21 is a Sport-type game developed by Electronic Arts and published by EA Sports for Xbox One, PlayStation 5, Xbox Series X, PlayStation 4 and PC, the video game was released on 09/10/2020
Version for PlayStation 5 from 03/12/2020
Version for Xbox Series X from 03/12/2020
FIFA 21 is a beautiful game that cannot be missing from your collection: we have decided to evaluate it with a 80%, if you are interested in learning more you can read the FIFA 21 Review