As we already announced months ago, from this year, finally, the POTM also of Serie A. The cards dedicated to the players of the month (Player of The Month) also debut for our championship and, just last night, Electronic Arts officially revealed the first.
We are talking about the Napoli defender Kalidou Koulibaly, protagonist (together with his team) of a truly incredible start to the championship. Compared to the "basic" version, the Senegalese giant earns two points in all the statistics, becoming a real must have for all owners of a team in our championship. At the time of writing, the completion of the challenge is priced at 160k, a certainly high figure but still acceptable considering the player's level.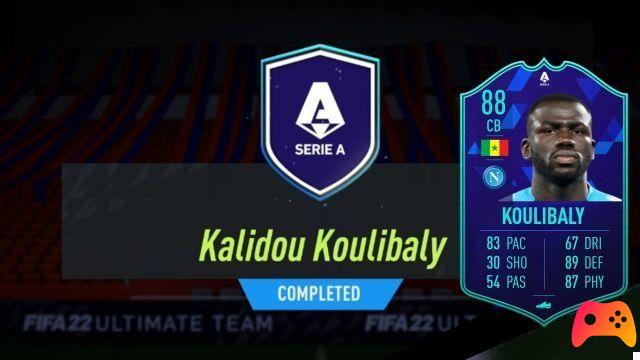 Here are the detailed challenges to complete to bring the player home.
Better Condition
Min. Team Rating: 83
Chemistry team: 80
Min. 1 Player from TOTW (Team of the Week)
Partial reward: 1x Gold Pack
Serie A TIM
Min. 1 player from Serie A TIM
Min. Team Rating: 84
Chemistry team: 75
Partial Prize: 1x Pack Gioc. Zinc
Squad with 85 Rating
Min. Team Rating: 85
Chemistry team: 65
Partial Prize: 1x Gioc. Premium zinc
Squad with 87 Rating
Minimum number of championships: 4
Max 8 players of the same league
Min. Team Rating: 87
Chemistry team: 60
And what do you think of this SBC? Will you complete it? Do you already have our FIFA 22 review? Let us know in the comments!
► FIFA 22 is a Simulation-Sport game developed and published by Electronic Arts for PC, PlayStation 4, Xbox One, PlayStation 5, Xbox Series X and Google Stadia, the game was released on 30/09/2021 The version for PlayStation 4 came out on 02/10/2021 The version for Xbox One came out on 02/10/2021
Version for PlayStation 5 from 02/10/2021
Version for Xbox Series X from 02/10/2021
Version for Google Stadia from 02/10/2021
FIFA 22 is a beautiful game that cannot be missing from your collection: we have decided to evaluate it with a 80%, if you are interested in learning more you can read the FIFA 22 Review by Salvatore Cardone.