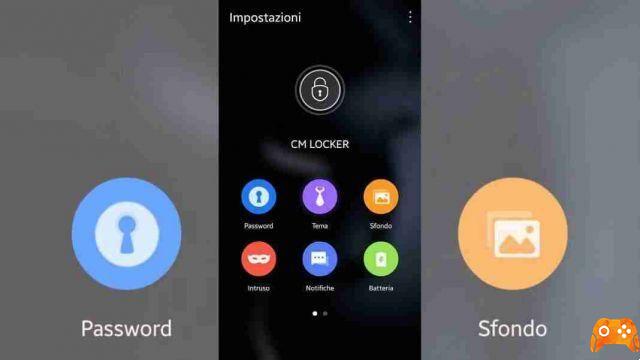 Android lock screen how to set and the best free apps. To prevent any strangers from unlocking your smartphone easily.
Set up a security system what can be:
classico PIN
a password
a sequence to be drawn with your finger on the screen
To access the security options from the main screen, go to the "Device settings -> Location and security -> Set up screen lock" section.
You can then choose between Sequence, Pin or Password.
Screen lock: PIN
The PIN is nothing more than a 4 to 16-digit number that you must enter to unlock the screen.
It is very similar to the PIN of the ATM or that of the SIM card.
Obviously, the longer the PIN, the harder it is for someone to guess.
Screen lock: The Password
The password option is can be a word or an alphanumeric code.
The password must be at least four characters long and contain at least one letter.
The advantage of using a password is that there are more characters making it almost impossible to guess.
You need to write a complex and strong password, which has more than 4 characters and is easy to remember.
Obviously though, the longer and more secure the password, the longer it will take to write it down each time.
Screen lock: Pattern lock
The pattern lock is a faster and more modern protection system based on the movement of the fingers on the screen.
The lock pattern requires you to connect a few dots on the screen to make a design.
Unless someone sees the phone unlock, it's really hard to guess the right sequence.
You can create a sequence made up of 4 points connected together, up to 9.
Pattern lock has a couple of additional settings.
You can enable the "visible sequence" so you can see the points on the screen to be able to trace them with your finger.
This option makes unlocking easier although it also makes it less secure.
pattern lock is always the best option by better combining ease of use and safety.
Screen lock the best free apps.
CM Locker is one of the most popular apps for customizing the lock screen of an Android phone.
Dodol locker is a lock screen that works almost like an operating system in itself, customizable with different themes and wallpapers to look for in the Store.
GO Locker by the same authors of Go Launcher, with a very clean look and many customization options.
ZUI Locker is a free lockscreen full of features to choose from to display notifications and information such as the weather.
Home it's possibly the best lock screen right now, with a swipe ring to unlock your phone.
Echo Notification Lockscreen show notifications in an organized way with options to customize how notifications are displayed.
slidejoy is a screen blocker app that displays advertisements and pays real money to spend.
Holo locker is that original from Jelly Bean, which can be the most minimal and the most efficient in general.
SlideLock Locker is a great replacement for Android's lock screen, minimalist and clean.
LockerMaster is the coolest lockscreen app, with many themes to choose from.
LokLok turns your lock screen into a whiteboard where you can create messages, photos and drawings to share with friends.
Semper it's useful for learning something new every time you open an application or unlock your phone.
Hi Locker allows you to add shortcuts to 4 applications, allows you to customize the graphic style and display a text of your choice.
Trring it's just a lock screen that adds a circle of buttons to launch your favorite apps.
Zero Locker is a lock screen with very clean graphics, with a nice bright color of your choice, orange, light blue or green or other, with many possibilities for customization.
The only flaw is that it also requires the installation of Zero Launcher to work.
Snaplock is the app to have a lock screen similar to that of iPhones, with dynamic notifications and wallpapers to always have a different mobile phone.
This is definitely one of the best lockscreen apps for Android.