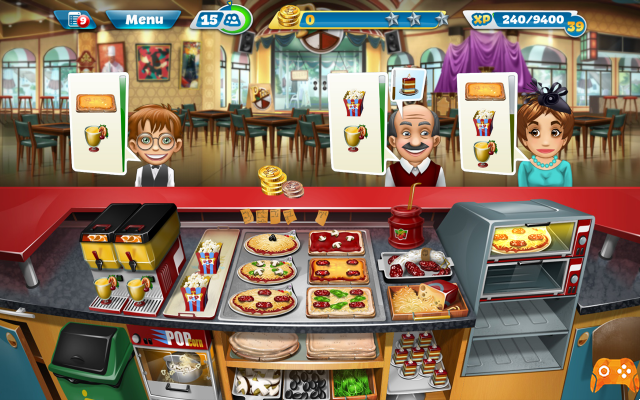 Cooking games the best apps for Android and iOS. Discover the best cooking games on your Android and iPhone smartphone.
If your passion is cooking and your fun is always preparing new dishes, these free cooking games for Android and iOS are a must on your mobile device.
You will try your hand at preparing dishes, serving them and much more.
Now we are going to list you the best cooking games that you can find on Play Store and Apple Store.
Cooking games
World chef
do i like exotic food? Or do you prefer to eat burgers and fries? Whatever your tastes, there is a place for you in the kitchens of World Chef, the most international cooking game of all, with chefs and recipes from more than 20 countries around the world!
World Chef is a happy place, where the kitchens never close, the waiter always smiles and the food is so good it makes your mouth water while you play.
Open your restaurant, choose a nice name and decorate it as you like! Then start experimenting with cuisines from around the world and serve the customers! Your venue will soon become so popular that you will have to expand it!
Expand the menu thanks to international chefs: tacos, pizza, sushi… The whole world inside a restaurant! When you get famous, even VIPs will come to try your dishes and ask you to cook for special events! You will soon learn what it means to run a famous restaurant.
And remember, this is not fast food! Take your time to cook your best recipes. Customers know it's worth the wait.
Download now for iOS and Android
COOKING MAMA Let's Cook!
Prepare exquisite dishes by combining the ingredients with a simple touch of your fingers!
Don't miss out on this new way of cooking by playing!
Be careful, you will certainly be peckish while you are playing ...
Play easy and fun mini-games to prepare your dishes. You have more than 30 recipes available! Become a special Chef!
You can run a restaurant and serve customers your creations.
Offer your customers your best dishes, and your restaurant will grow more and more!
There is much more besides the kitchen… "Help!", "Play Shopkeeper!", And "Exercise your mind!". Challenge yourself with over 30 games of all kinds and beat your high scores!
Download now for iOS and Android.
Cooking fever
Prepare delicious dishes typical of kitchens from all over the world in this addicting FREE management game!
Choosing from 19 exceptional settings, from patisseries and fast food to oriental oyster bars and restaurants, you will have the chance to test your cooking skills in various locations and experiment with new cooking techniques; you can take advantage of more than one hundred ingredients to cook countless appetizing dishes.
Try the various appliances at your disposal: coffee machines, rice cookers, pizza ovens, popcorn machines and much more.
Set up your restaurant to attract more customers, prepare exquisite gifts such as cookies or pastries to win over your visitors, just like in reality!
Upgrade your kitchen to prepare an even greater variety of treats.
Oh, did I mention that this game is addicting and incredibly addicting? Unleash your creativity in the kitchen and don't forget to share your delicacies with your Facebook friends!
Download now for iOS and Android.