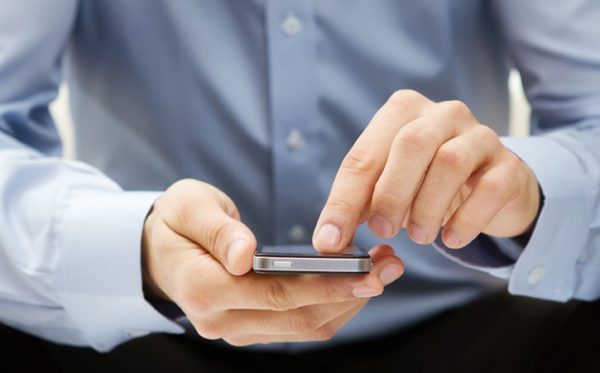 Today we are going to talk about the most useful applications for Whatsapp. Yes, because Whatsapp alone is wonderful, but with some additions it can become even superlative. WhatsApp is arguably the most popular application of recent times and is also arguably the best messaging application.
There have been numerous updates for this application lately and it now includes a ton of new features such as calling, message formatting, end-to-end encryption, and so much more.
While WhatsApp packs some great features natively, there are some Android apps that can make it even better. We believe that WhatsApp can be made even better when used in conjunction with other third-party Android applications.
These applications offer different services and can fill some holes left by WhatsApp. Let's move on without further ado, let's see what are the applications that make WhatsApp even better.
1. Siftr Magic Cleaner
Siftr Magic Cleaner also known as the cleaning wizard for WhatsApp, is like a garbage man for your smartphone. WhatsApp is the source of videos, photos and music that are saved on the device.
In a short time, using Whatsapp you have noticed less storage space due to the space occupied by these photos, videos and music that you have never used.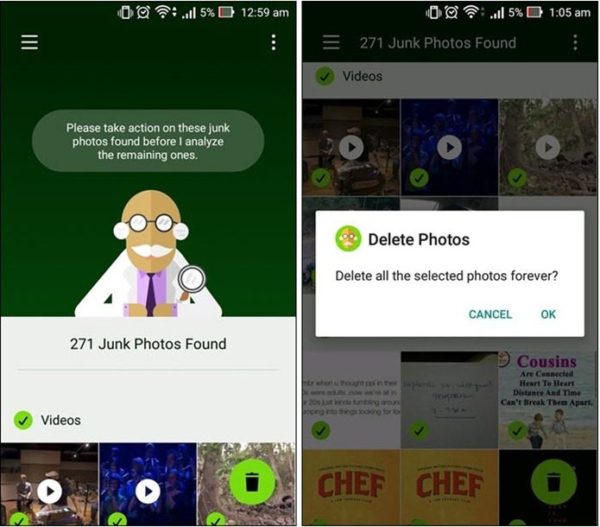 Siftr Magic Cleaner elegantly sorts your photos and videos into useful and junk files (screenshots, memos etc.) based on what's important to you and allows you to delete junk files with just one tap. It is a must have if you are part of some groups and have a lot of incoming photos on your device. This application makes sure that you do not run out of storage space due to useless files sent to you on Whatsapp.
Install: (Free)
2. Notifly
Notifly is an application that offers you the easiest way to receive notifications and reply to WhatsApp messages. It opens conversations in the form of a popup and allows you to reply to messages without having to switch between applications.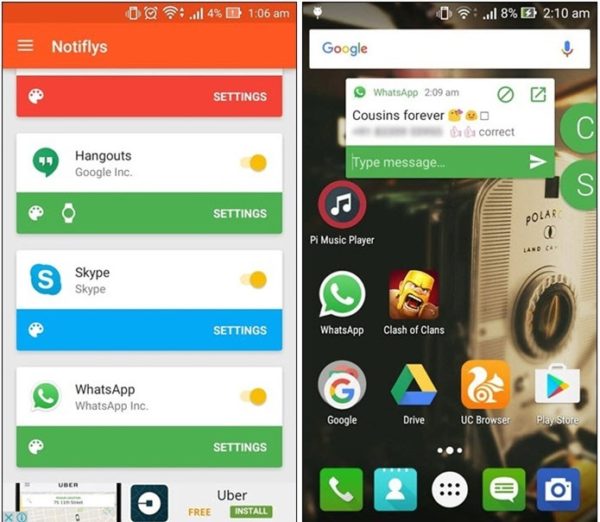 It boasts a very simple design and allows the user to have a conversation without leaving the application. Apart from WhatsApp it also supports Telegram, Line, Hangouts, Skype, VK, Tango, KakoTalk, Twitter, GroupMe, Threema, textPlus, Textra, ChompSMS, QKSMS, Facebook Messenger, Google Messenger, Plus Messenger, Gmail and Inbox.
Install: (Free with in app purchases)
3) Disa
Disa is a hub for all the chat services you use on your device. It provides a platform in which messages from all chat services such as SMS, WhatsApp, Facebook Messenger, etc. are aggregated in one place. If you have multiple active conversations with the same person in multiple services, they merge into one conversation using Disa.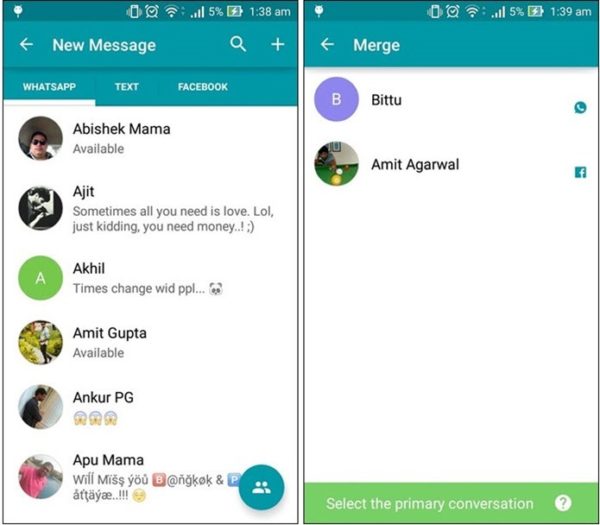 It is incredibly effective at merging and organizing messaging services and provides a good platform with which to take care of all your conversations. The last 10 conversations are automatically loaded and you can add the oldest conversations by simply adding a new conversation for specific contacts. With all the services aggregated, the application still manages to provide a clean interface.
Install: (For free)
4. Lock For Whats Messenger
It shouldn't be hard to guess what Lock For Whats Messenger does. This is an app blocking service to protect your privacy on WhatsApp from prying eyes. This is the most reliable app available on the Play Store and limits any unwanted access to your private conversations.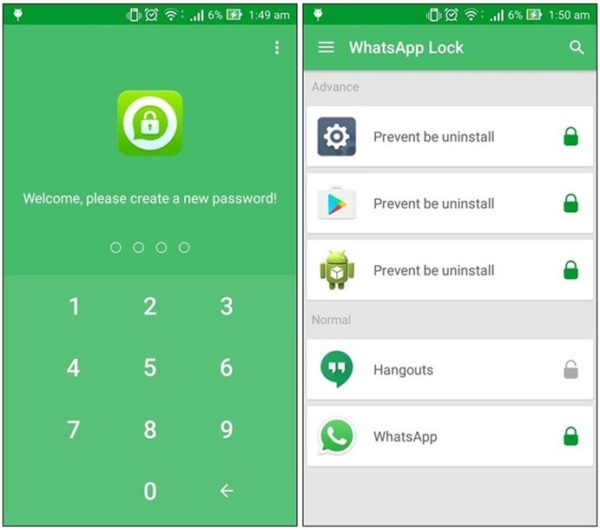 Aside from WhatsApp, the application can also block Gallery, Facebook, wechat, Kik, Tango, text, etc… You simply need to set a pattern or password when configuring the application that will be used to access all blocked applications. To make it even safer, you can hide this application's icon so that no one else can find it.
Install: (For free)
5. Emojidom
Yes, the emojis available on WhatsApp are not bad and there are too many for most users. But for those of you who need a little more, something bigger and more customizable to share your emotions, Emojidom is for you.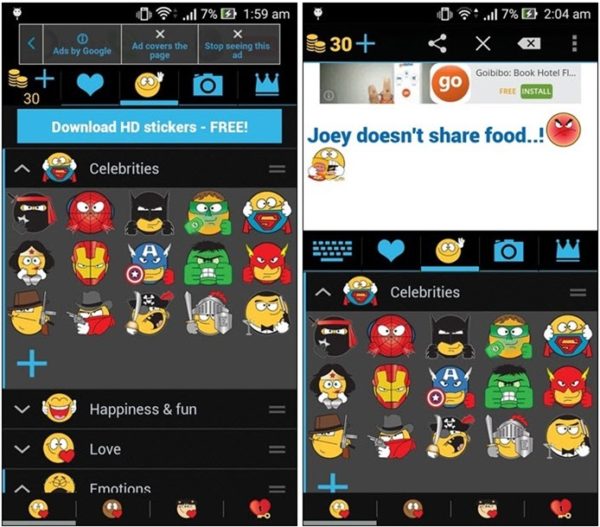 It has more than 4.000 unique and funny smileys in HD which can be sent on WhatsApp, Facebook, LINE, wechat, etc .. You can also add your own images instead of emojis. To send a message, simply type in the Emojidom and add the emojis, the desired images and then share them on WhatsApp. The message will be sent as an image, thus making the emoji even more beautiful and much more fun.
Install: (free with in-app purchases)
6. CropShop
Using CropShop, you no longer have to crop your favorite photos to be able to adapt them to your profile on WhatsAppinstead you can use this app to edit and add a blurry background instead of giving it a square shape.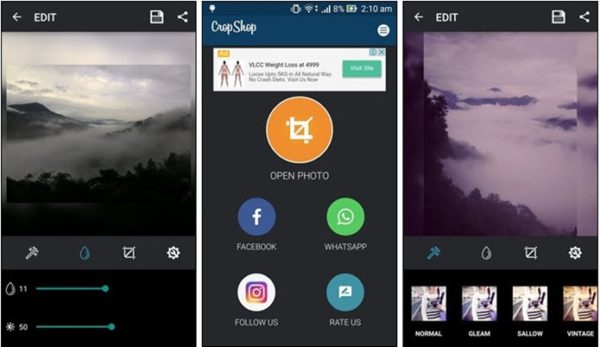 You can also make basic edits and add some fancy filters to your photos before sharing them. Use this app so you don't have to cut your legs off the photo the next time you take a selfie.
Install: (For free)
Conclusion:
In this article we talked about the most useful applications for Whatsapp, we have seen how to make Whatsapp safer, how to clean Whatsapp from photos and videos, how to add Emoji on Whatsapp, how to edit photos on whatsapp and much more, I hope I have been useful to you.
Further Reading:
WhatsApp warns: if you don't use the official application, your account will be banned
How to activate WhatsApp without SIM
Whatsapp on two devices, how to do it
How to share WhatsApp status as a story on Facebook
How to fix problems with WhatsApp notifications on Huawei