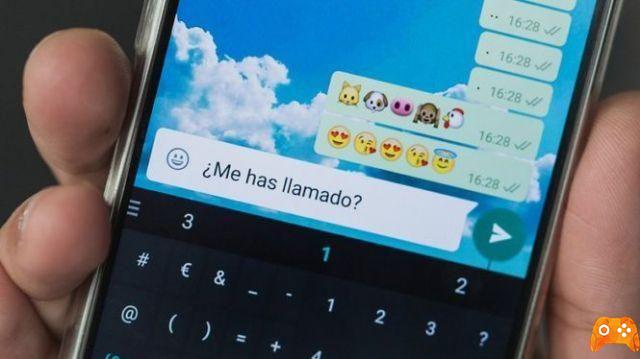 In this tutorial we will talk about how to send a message on Whatsapp without having it in the address book. We see how to contact someone without having them in the list of our Whatsapp contacts. Send a message to someone you don't have on WhatsApp it's very easy!
WhatsApp is one of the most used instant messaging applications in the world that offers numerous advantages, it allows us to communicate easily with all our contacts and I insist on the word our contacts, because we cannot send messages or call someone who is not on the list of our contacts, the purpose of this restriction is to limit spam through the application.
To contact someone, it is imperative that their number is in our contact list. It is for this reason that, as a result of this problem, an application has arisen that can counter this restriction, there allows you to contact numbers via WhatsApp that we do not want to add in our address book, it is simple and easy to use, it can be interesting for many users.
Why use Mesej Je for Whatsapp / WA Business?
Mesej Je for Whatsapp / WA Business was born with a single purpose, to allow users to communicate with someone via WhatsApp without having to add them to your contact list. This is one of the major drawbacks of WhatsApp, but it's not a very serious problem.
If you don't want to use this app, you can simply add the person to your address book, contact them and then delete them after sending the message. Now, if you want to look for simplicity and automation because you want to contact multiple numbers quickly for example, this app is a good option.
An affordable way to avoid adding many contacts to WhatsApp, an example of use: this option is interesting if you want to create a WhatsApp group with your 100 classmates.
Send a message on Whatsapp without having it in the address book
Once the application is installed Mesej Je for Whatsapp / WA Business, it is necessary to indicate the international prefix + 39 (in the case of Spain) then press the Open WhatsApp button. You must enter the code correctly because otherwise the application will not work. If the number has not yet installed WhatsApp, we can send an SMS to invite him to download WhatsApp.
For the moment, this application only works with Whatsapp, it is possible that in the future they will add other messaging applications such as Telegram, Viber ...
You can download the Mesej Je for Whatsapp / WA Business application via the Play Store!
Not satisfied yet? In this section you will find the complete collection of tips for Whatsapp ...
Further Reading:
3 ways to send a WhatsApp message to someone without adding them as a contact
How to use two WhatsApp accounts on Samsung phone
Deleting WhatsApp contact, very easy
4 ways to send WhatsApp messages to unsaved numbers
How to change voice on WhatsApp