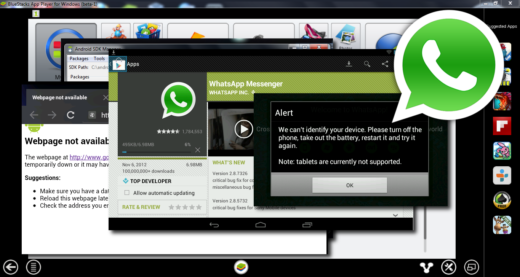 How to use WhatsApp on PC without a mobile, WhatsApp is basically a mobile application that requires users to have a mobile phone with an active phone number to set up WhatsApp and use its messaging system. In this article, we take a look at how to use WhatsApp on a PC or Mac without using a mobile phone.
How to use WhatsApp on a PC without a mobile phone
1. Open your web browser on your computer and go to bluestacks.com.
2. Next, click on the download BlueStacks button and let the BlueStacks application be downloaded and installed on your computer.
3. After BlueStacks has been downloaded, install the application on your computer by clicking the downloaded file twice.
4. Follow the instructions to complete the installation of BlueStacks on PC or Mac. If you have problems we have a dedicated section.
5. Once BlueStacks has been installed on your computer, open the application by double clicking on the desktop shortcut
6. After opening BlueStacks, you should be able to see WhatsApp in the popular applications list as indicated by BlueStacks. If not, you can search for WhatsApp by typing in the BlueStacks search bar.
7. Once you have found WhatsApp, click Install to download and install WhatsApp on your computer.
8. After WhatsApp has been downloaded and installed on your computer, open WhatsApp by clicking on the WhatsApp icon on your computer.
9. Next, WhatsApp will ask you to enter your phone number so that you can receive a verification code from WhatsApp. Enter your Phone Number as you don't have a mobile number.
10 Once you have entered the phone number, you will see a verification failed message on your computer. Just click on the Call Me option.
11 You will receive an automatic message from WhatsApp on your home number. Listen to the message and write down the verification code.
12 Enter the verification code in the pop-up on your computer.
After entering the verification code, you will see your WhatsApp account activated on your computer.
You are done, you just have to use the service in a complete and effective way to communicate with your favorite contacts without limits. In this regard, I suggest you read the MelaRumors WhatsApp guide with numerous insights on how to use this instant messaging service and the various functions released in the latest updates.
Further Reading:
How to make WhatsApp phone calls
Whatsapp on two devices, how to do it
Whatsapp Web your Android
How to use Whatsapp web without QR code
Whatsapp Web complete guide