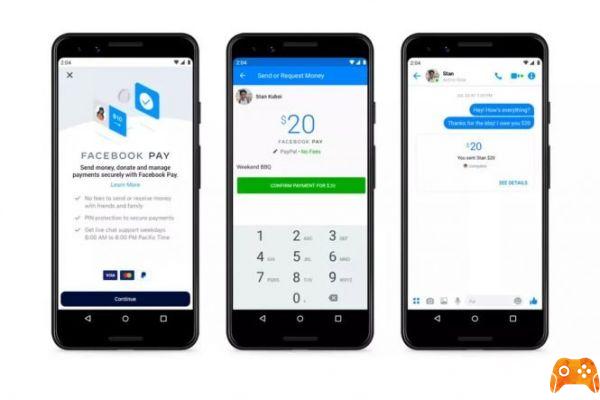 Payments on WhatsApp and Facebook: how to do it. Facebook has launched a new payment system, aptly named Facebook Pay. It is available on Facebook, Messenger, Instagram and WhatsApp and is designed to facilitate payments through social networks and the most popular Facebook apps.
You will be able to use Facebook Pay to send money to friends, purchase goods, or even donate to fundraisers. The service will be separate from Facebook's new Calibra portfolio and Balance network, and is "built on existing financial infrastructure and partnerships," according to the company.
It will initially be available for fundraising, person-to-person payments, event tickets, in-game purchases, and some purchases from pages and businesses operating on the Facebook Marketplace. "Over time, we plan to bring Facebook Pay to more people and places, including Instagram and WhatsApp," explains Deborah Liu, Facebook's vice president of market and commerce.
Merging payments on Facebook, WhatsApp, Messenger and Instagram under Facebook Pay highlights how the social media giant is trying to tie all the companies it owns. Facebook is also working on a way for Messenger, WhatsApp and Instagram users to message each other without switching apps.
To access the new service, go to settings and click on Facebook Pay. On Messenger, you'll be able to send payments to other people, buy games, buy event tickets, and donate to fundraisers.
You will also be able to use Facebook Pay to make payments from certain pages and businesses in the Marketplace where users can buy and sell items. You may already have, but now payments will be made on Facebook Pay. Your Facebook Pay business could be used for ad targeting, the company said in a blog post.
What can be done with Facebook Pay
Add your preferred payment method once, then use Facebook Pay where available to make payments and purchases on the app, instead of having to re-enter your payment information each time
Install the Facebook Pay app per app or choose to set it up for use across apps (where available) - this means Facebook Pay will not be automatically set up between apps you are active on, unless you choose to do so
View your payment history, manage payment methods and update your settings in one place
Get real-time customer support via live chat in the US (and in some time elsewhere in the world too)
Clearly understand which payment services are part of Facebook
How to make payments on WhatsApp with Facebook Pay
You can start using Facebook Pay on Facebook or Messenger with just a few taps:
Go to "Settings"> "Facebook Pay" on the Facebook app or website
Add a payment method
Next time you make a payment, use Facebook Pay
Once Facebook Pay is available on WhatsApp and Instagram, you will be able to configure the functionality directly within each app.
Facebook Pay supports most major credit and debit cards and PayPal. Payments are processed in partnership with companies such as PayPal, Stripe, and others around the world.
Read also:
How to log into Facebook without letting others know
Further Reading:
How to share WhatsApp status as a story on Facebook
Facebook prohibits the installation of WhatsApp on future Huawei phones
WhatsApp: Don't click a share button
How to know if my mobile has NFC
How to disable receiving Facebook notifications (on mobile device, desktop)