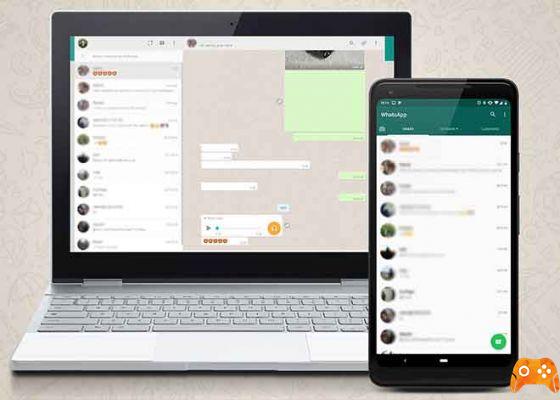 So you are here because you want to know how to use Whatsapp Web on your phone, it can be done, provided you read the tutorial below. In addition to its popular application, the version of the popular messaging service can be used on both computers and mobile devices. We will tell you how to use the web version of the messaging app on Android and iPhone phones.
WhatsApp Web is a great way to extend the functionality of the messaging platform to the desktop. The web client is easy to set up and use, has the same visual interface as the mobile version of the app, and messages instantly sync between your phone and the web. Here's how you can use Whatsapp Web on your phone.
How does Whatsapp Web on Android work?
WhatsApp for PC is just like the app title says - a web portal that lets you play your phone's WhatsApp experience on a desktop browser like Chrome, Firefox, Safari, Opera, or whatever you like.
In order to keep WhatsApp safe and private, WhatsApp on PC is not a separate instance of WhatsApp that lives independently of your phone.
Instead, it relies on connecting your phone to WhatsApp to generate an initial instance and then taking a photo of a unique QR code for authentication brings that exact experience to the web.
Once you have disconnected WhatsApp on your phone, the connection on the web is interrupted.
How to use Whatsapp Web on Android?
Open the browser on your phone and search for Whats App Web.
Open Whatsapp PC on your phone.
Click on the three dots at the top right and click on the desktop site.
You will need to go to the WhatsApp Web QR Code and scan it.
Open WhatsApp on your second mobile phone.
Click on the three dots at the top right and select WhatsApp Web.
Scan the QR code from the browser on your first mobile phone in the WhatsApp application on your second mobile phone.
You will be able to use WhatsApp Web on the browser of your first mobile phone.
That's all there is to using Whatsapp Web on your phone. Your account is now connected to the web client and you will be able to use WhatsApp directly from your phone.
How to use Whatsapp Web on your phone, conclusion
WhatsApp Web allows you to share documents, photos and videos, contacts, and even use your phone's camera to take photos and share them.
You can also view your friends' stories, start new chats, change your profile photo and use the search function within chats.
Most of the features you use daily on WhatsApp on your phone are available here and that makes WhatsApp Web a particularly great utility.
If you are not keen on running WhatsApp to web in a browser, you can download the Windows client and run it natively on your computer.
Related article: 5 things you don't know about WhatsApp Web
Further Reading:
How to share WhatsApp status as a story on Facebook
How to make WhatsApp calls using the Google Assistant
How to enable WhatsApp two-factor authentication for Android
The WhatsApp settings menu changes with the latest update
This is the dark WhatsApp theme for Android in the latest beta version of the app