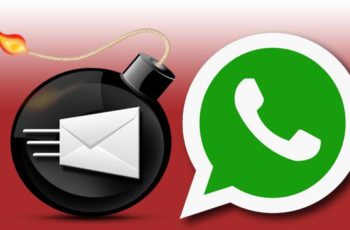 How to send self-destructing WhatsApp messages? Snapchat was the first application to offer this type of service, but in this tutorial we will explain a trick to be able to send self-destructing messages also via WhatsApp. For this you will need a special application, it is called Kaboom and is available for free for iOS and Android.
WhatsApp has not implemented the function of sending self-destructing messages, so to do so you need to download a third-party application. Its name is Kaboom and it allows you to generate messages or images that have an expiration date, that is, they disappear after a certain time.
Once the download is complete, when you open Kaboom for the first time, a welcome screen appears, which briefly explains how the application works. The only thing to do at this point is to choose a name that will be shown in the messages. If you are using an iPhone, you can add the Kaboom keyboard for faster access.
Adding the keyboard is completely optional. It is recommended to install it only if you plan to use Kaboom very often.
How to send self-destructing WhatsApp messages
Kaboom interface, allows you to send WhatsApp messages that disappear afterwards, reminds us a lot of the function already seen on Snapchat, the full screen camera image with different icons on it.
Kaboom allows you to take a photo right now or select one from the library, but be careful because first you need to give the app permission to access your photos. If we click on the icon on the right you can send a text message, which is the function we will see in this tutorial.
The next step is to type your message and decide for how long your message on WhatsApp will be visible. Keep in mind that if it's a long message, it will take enough time for the recipient to read through to the end. To set the time, simply click on the clock icon that appears in the lower right corner of the screen.
Kaboom allows you to choose between time or views. For example, you can choose that the recipient can see the message only twice and then disappear. In the case of time, seconds, minutes, hours and even days can be selected.
Once you've configured your message to expire, you're ready to send it. Click the Send button and you will see several options for sharing the message. Select WhatsApp and your contact list will appear and make sure you can choose the one you want.
Once in WhatsApp, you will see that your message has been transformed into a URL. As we said, WhatsApp does not allow sending this type of self-destructing messages, so you need to use external links.
When you click on the URL generated by Kaboom, a page opens where your name and the message in question will appear. At the top there is the counter that indicates the time remaining until the message disappears. After this time, the link shows a page that warns us that the message has expired.
While waiting for WhatsApp to decide to include this feature, this is undoubtedly the best way to send WhatsApp messages that self-destruct.
Further Reading:
Self-destructing WhatsApp messages are now official
How to send disappearing messages on Facebook Messenger
How to send the same message to multiple contacts at the same time with WhatsApp for Android
Then you can use your TV to watch WhatsApp video calls
What is Vanish mode on Facebook Messenger and Instagram