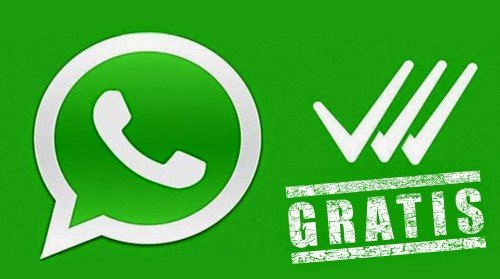 How to get WhatsApp free for life, we will help you see how to get WhatsApp free for another year. We all know that every year with WhatsApp users are entitled to a 1 year free trial. Then after completing the first year you have to pay a few euro cents to activate Whatsapp for the following year. So here we will show you how to use WhatsApp for free for life.
How to have free WhatsApp for life
METHOD 1
Requirements:
Android device.
IOS device such as iPhone, iPad. (on loan from friends or elsewhere).
WhatsApp installed on both devices.
How to do:
Delete WhatsApp from the Android device.
Now download WhatsApp on your iOS device (whatsapp doesn't have to be pre-installed in it).
Install WhatsApp on iOS and check with your phone number on which you will receive the confirmation message. (The number must be the one you intend to use in your Android device).
Check if WhatsApp is working or not. You will receive a 10-year free subscription.
Now remove WhatsApp from iPhone and install it in any device i.e. an Android, BlackBerry or Windows, etc.
You have Whatsapp with a lifetime subscription on the device.
METHOD 2
Requirements:
An Android device.
Gmail installed on the Android device.
Whatsapp installed on the Android device.
How to do:
Once the trial period is over, uninstall WhatsApp.
Now go to "Gmail" and create a new Gmail id.
Once you are done with it. Go to the "Google Play Store".
Click on the "Settings" icon in the upper right corner.
Go to "Account Settings".
Change the new Gmail id to the older one.
Download WhatsApp again.
Now open and log into your WhatsApp account.
You will have to apply this method after every year.
METHOD 3
Requirements:
Android device.
Whatsapp installed on this Android device.
How to do:
Open your WhatsApp account.
Go to "Settings".
Now click on account.
Click on "delete my account".
It will ask for your phone number.
Leave your number there and click "delete my account".
You are no longer active on Whatsapp.
Now create a new account for WhatsApp Messenger as done previously.
Check the expiration date of the new WhatsApp by going to "Settings", after which click on "account" and then "payment information". You will see that the validity of your WhatsApp has been extended.
METHOD 4
The procedure is this:
Uninstall Whatsapp from the mobile;
Find a mobile phone with a different operating system than the one used (so if you used an iPhone before, you need an Android device or vice versa);
Re-download the application on the phone keeping the original phone number;
Exit the Whatsapp account of the new phone (with a different operating system) and reset Whatsapp on the original phone;
At this point, going to the 'expiration' option you should find the word "Lifetime" (for life) and so you will have Whatsapp free forever.
METHOD 5
Step 1. First of all delete your old gmail account and create a new one on your phone.
Step 2. Then Download WhatsApp from the Google Play Store.
Step 3. After installation, then verify that you have WhatsApp free for another 1 year.
LAST METHOD
To access WhatsApp you will have to go through the phone verification process where your number will be verified. This number will be visible to your contacts. But today we are going to bypass the SMS verification process using a fake mobile number.
Now go up receivefreesms.com and select one of those numbers.
Enter the number in the field required by the application. It will take you to the sms verification page.
Now come back receivefreesms.com and click on the number you have chosen to send the verification sms.
Enter the verification code on the application verification page. That's it, it's done ..
Final report: Some numbers may not work due to a technical error, no problem you can choose any other number to verify sms. The only disadvantage of this trick is that anyone can use the same number for verification so in those moments the application will ask you to re-verify the number.
Done. Hope this trick works for everyone. Now you have to repeat the same trick every year in order to use Whatsapp for free forever.
Further Reading:
How to download and save WhatsApp audio
Whatsapp, how to convert audio messages to text
What are the best anti-theft apps for Android?
WhatsApp warns: if you don't use the official application, your account will be banned
This is the dark WhatsApp theme for Android in the latest beta version of the app