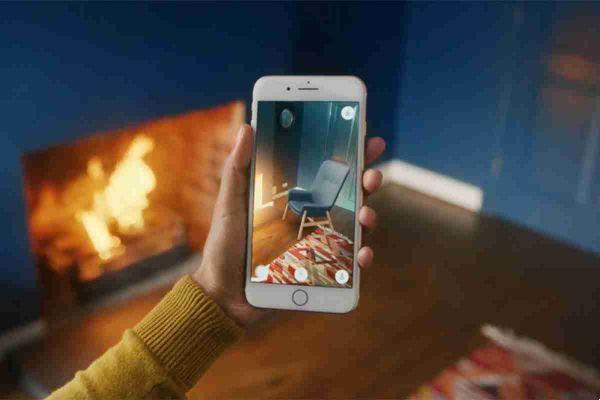 Augmented reality app on iPhone X and iPhone latest models. Discover the features of your iPhone with these augmented reality apps that you can find on the App Store.
Augmented reality app on iPhone
Night Sky
Night Sky is a powerful augmented reality personal planetarium designed for iOS 11.
Quickly identify stars, planets, constellations and satellites just by pointing your iPhone, iPad or Apple Watch at the night sky! As if by magic, Night Sky will show you the location of what you are looking for, whether it is a constellation or the International Space Station.
Functionality:
- Planetarium in AR (Premium feature): Bring the solar system to your home or classroom with the new Planetarium feature for iOS 11! Use augmented reality to move around the solar system, manipulating space and time with the touch of your fingers! Move to the planets, their moons and surrounding satellites and see them in detail. View the current space missions in the solar system! Thanks to our planetarium, not only will you be able to observe from space, but you will be able to land on planets and see the sky, for example, from the surface of Mars or even from the moons of Jupiter! The Night Sky Planetarium reveals the sky to you from any vantage point in the solar system! A powerful and magical experience, only possible with Night Sky and iOS 11!
- Live Sky Tour: Starting with Night Sky 5, tap "Sky Tour" and you will be guided on a tour of the sky above you. Siri will take you to discover each currently visible constellation and offer you information about the stars. Customize your tour by choosing the duration you prefer.
- World Sky Tour (Premium feature): Create your own tours for any time and point on the globe! Just set a point on the world map and Night Sky will create a sky tour for that location, saving it to "My Tours" for quick and easy access. Make sure you create a tour for your favorite campsite and next summer vacation! After that the tours will be synced via iCloud to be viewed with Night Sky on tvOS or vice versa!
- My Notifications - Starting with Night Sky 5, you can fully customize your notifications in Night Sky. Add any object - from satellites to constellations - to your Favorites and you will be notified when the object is about to rise to your current position. Notifications for Iridium flares about your current location are now also included. Manage all notifications with a new, simple list. Detailed notifications will appear on your iOS device enriched with beautiful animations. You will always know when your favorite celestial objects are about to rise over your current location!
- Advanced night view with crystal constellations: 115.000 celestial objects, deep space objects, fascinating crystal constellations, light spectrum vision with high impact images, two-finger manipulation to increase or reduce light pollution, and multi-layer animated 3D models .
- Night Sky Tonight: Night Sky Tonight gives you an animated view of the sky above you from dusk to dawn, for a totally personalized experience. You will be able to scroll through the time frame to see all the celestial events that will take place tonight at your location.
The Night Sky Premium option is available for $ 1,99 monthly or $ 9,99 annually (or currency equivalent). You can subscribe and pay through your iTunes account. Your subscription will automatically renew unless canceled at least 24 hours before the end of the current period. You can manage your subscriptions by entering your user settings in iTunes after purchase. From there you can also disable automatic renewal.
IKEA Place
IKEA Place is one of the best known AR apps. The app can download 3D models for IKEA furniture and place them in your home. See accurate and precise representations regarding the size of that sofa in your living room or whether the coffee table matched the coffee table.
INNKHUNTER
Test the tattoos on your body before getting them with INKHUNTER. Just draw a small icon on the skin to tell the app where to aim. So pick a tattoo and adjust it until things look good. You can apply pre-installed tattoos, find tattoos online or enter your own custom designs, then share the results on social media or save for later review.
GIFHY World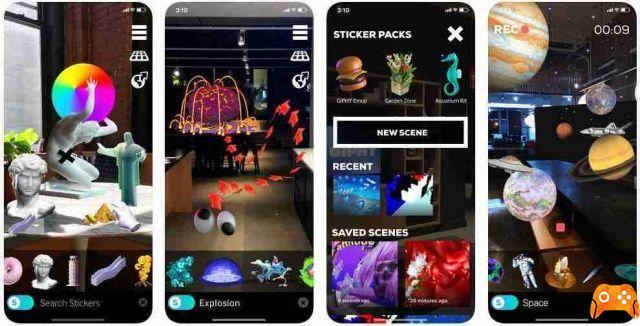 GIPHY World was created to help you create funny videos and messages that you can share with your friends. Put 3D models from GIPHY's library into the world around you, make a video and then share with friends and followers.
Holo

Holo is similar to GIPHY World, but the 3D model collection is a bit larger. It's the same idea as GIFHY, putting 3D versions of GIFs in a loop in your environment. Create a scene, take a video and share with your followers and friends.
PLNAR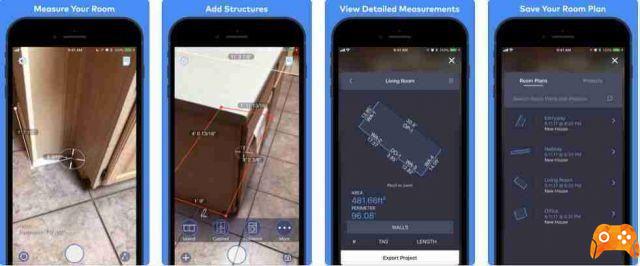 PLNAR measures real world objects via the AR camera. You cannot expect accurate measurements. But even so, you can use the application and create three-dimensional models of rooms. Save the measurements for later, view the plan from other angles, and measure hard-to-reach areas.